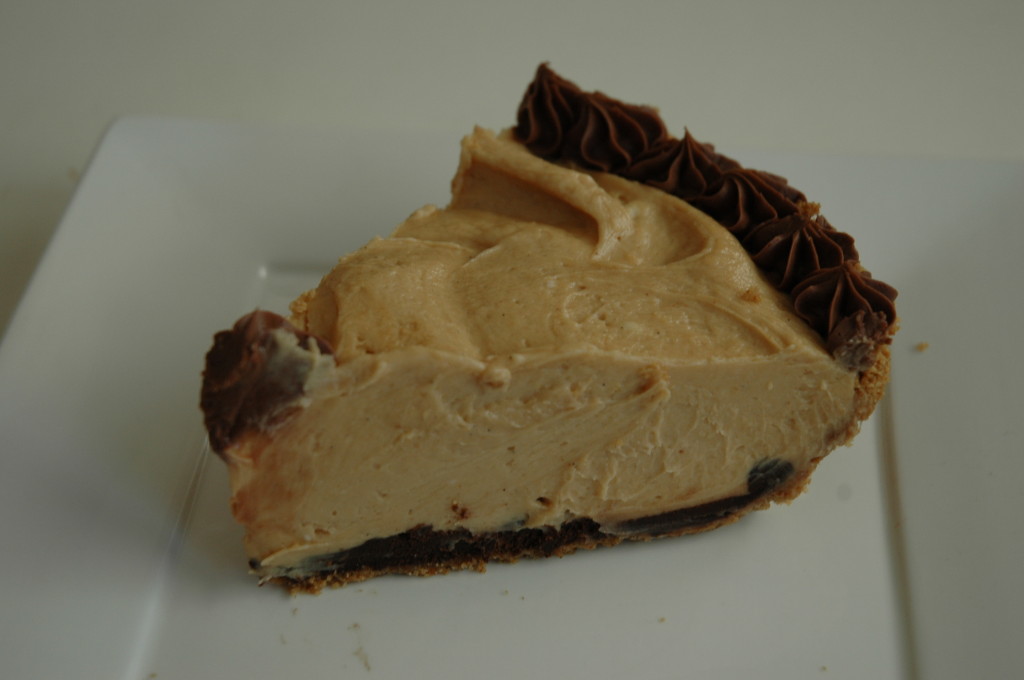 CurvyMama took her beloved "Sweetie Pie Sara" and a couple of friends to a local pie contest the other day. My little pie didn't win anything, but we humans had a ton of fun meeting new people and tasting all the pies that jockeyed for attention on the table. It was all for a good cause, too: bringing people together to talk and think about local food sourcing and new ways to get healthy foods into neighborhood stores in struggling communities. (Thanks again to my fellow pie lover and blogger Emily Hilliard, who invited me to bake for this event!)
As nice an afternoon as it was, it got even nicer when one of the judges, Claire O'Neill, emailed me to say that my pie was her personal favorite. She wondered if it would be okay to post the recipe in the blog of the D.C.-based 'zine she co-edits, The Runcible Spoon. Okay? I'm delighted!! What could be better than having one of the pies I'm most sentimental about (created for my younger daughter) be featured in a local magazine dedicated to the "pleasure of eating food"? Yay!
So, the "Sweetie Pie Sara" likes to be made in three steps: 1) Bake (or buy, but don't tell me about it!) a graham cracker crust. 2) Make the chocolate ganache that lines the crust so it has time to cool a bit. 3) Make the peanut butter filling.
Time for the recipe: Enjoy!
Sweetie Pie Sara
2014-09-15 18:12:03
For the crust
1 1/2 cups (7 ounces) finely ground graham cracker crumbs
5 2/3 Tbsp. (2 7/8 ounces) unsalted butter, melted
For the ganache
4 ounces bittersweet chocolate, chopped into small pieces
2 ounces heavy cream
For the filling
1 c. Skippy creamy peanut butter (don't use natural or chunk peanut butters!)
6 Tbsp. unsalted butter, at room temperature
8 ounces cream cheese--regular, not whipped--at room temperature
A dash of Kosher salt
1 14-ounce can sweetened condensed milk
1 tsp. vanilla paste (you can use extract if you don't have vanilla paste)
Instructions
Preheat the oven to 350 degrees.
To make the crust: Combine the graham cracker crumbs and melted butter in a bowl. Stir and press a bit with a fork so the butter is well blended with the crumbs. Press the crumbs into a 9-inch pie pan. Chill. Bake about 8 minutes, until fragrant. Remove from oven and let cool completely.
To make the ganache: Put the chopped chocolate in a bowl. Heat the cream in a small saucepan, watching carefully so it doesn't boil. When it is hot enough to give off steam, take it off the heat and pour it over the chocolate pieces. Let it set for a couple of minutes to soften the chocolate. Give it a stir. Stir occasionally while it's cooling to make sure all the pieces have melted and it's smooth. You'll see the ganache thicken a bit as it cools. Don't leave it so long that it hardens (and don't put it in the refrigerator!), because you won't be able to spread it inside the baked pie crust. Let it sit for just long enough to get to a nice, thick but spreadable consistency.
When the crust is cool and the ganache is ready to spread, use a small offset spatula to spread it evenly on the bottom and about two-thirds of the way up the sides of the crust. Put the coated crust in the refrigerator to set.
While the ganache-lined crust is chilling, make the filling. In the bowl of a stand mixer with the paddle attachment, combine the peanut butter, softened butter and cream cheese. Add the sweetened condensed milk, salt, and vanilla. Mix until blended.
Once the chocolate-lined crust is pretty well set, spoon the filling into the crust. Decorate however you like. Chill at least a few hours before serving. Take it out only 5-10 minutes before serving.
CurvyMama Pies http://curvymamapies.com/