Get to know CurvyMama!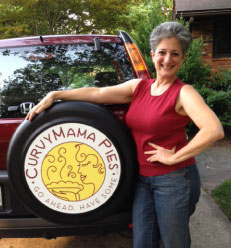 I earn my living as a journalist, but I spend a ton of my off-the-clock hours finding excuses to bake. I am happiest when I've got my hands in flour, butter and sugar, especially when I'm making pies.
I've been baking as long as I can remember, but the passion for pies ambushed me pretty late in the game. Big chunks of my childhood in New York were spent perched on stepstools, helping my mom make brownies and chocolate chip cookies. In dozens of family photos, my face is smeared with batter, and I'm clutching a set of just-licked beaters from her Sunbeam mixer.
Once I was tall enough to reach the countertops, I started turning out sweets on my own. My adolescence in Los Angeles is a blur of double-chocolate-chip-sour-cream Bundt cakes and big pans of fudge.
The next few decades took me to San Francisco, Boston, and back to Los Angeles. In crappy shared houses in college, and in the cheap apartments I could afford on a waitress' tips or a wire-service reporter's salary, I baked. Cakes, bars, cookies, cobblers and crisps. I baked with friends and a good deal of red wine and laughter, and I baked alone. I baked to mark my little triumphs, and to console myself when I stumbled. I baked to celebrate long bonds of best-friendship and family, and the joy of romantic love.
When life brought me to Washington, D.C., I baked to nurture my two daughters. I guided them onto the same kind of stepstool I remembered from childhood, and let them lick the beaters anytime they damn well wanted to. We mixed and baked, and while cookies were in the oven, we danced to whatever was on the radio. Later on, we baked to heal the broken hearts and anxieties of adolescence. Sometimes we said to hell with the baking part, and just sat and ate the dough.
But in all that time, I never really made pies. They intimidated me. Something about the dough: I was afraid to work it too much. I was afraid to work it too little. My younger daughter inspired me to try, though. Barely 11, she had been turning out nice pies at her dad's house, and she assured me it was no big deal. A new era began.
Years later, thoroughly in love with pies, I decided to give it a push. I wrote an email to Ron Silver, author of my favorite pie cookbook and owner of Bubby's restaurant in New York City, which began as a pie shop. I confessed to being a hopeless pie addict, and wondered if he would entertain as crazy-ass a notion as letting me into his kitchen for a week or two. And damned if he didn't say yes.
And so the CurvyMama Pies blog was born, to document my crazy-ass pie-making trip to New York. People started asking what kinds of pies I could make for them, so I posted a menu on the blog. The orders started rolling in. And CurvyMama was up and running.
Later, pie would take me to Iowa to be a judge at the state fair and bake at the American Gothic House. It would lead me to start a pie-of-the-month club, and to befriend pie makers across the country. I've been amazed at the Power of Pie; everywhere I go, as soon as I say "pie," people smile, sigh, and share warm fuzzy stories. Making it together builds bonds; eating it brings nostalgic comfort. CurvyMama hopes to offer you some of each.