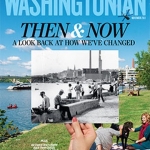 Wedding pie? Absolutely!
That's what lovebirds Lindsday Steedman and Arkadiy Naumov thought when they asked me to bake pies for their wedding here in Maryland last summer. And now their gorgeous event–and our pies!–are featured in Washingtonian magazine!
Check out the beautiful day that Lindsay and Arkadiy created. I'm thrilled that CurvyMama was able to play a delicious little part in it.