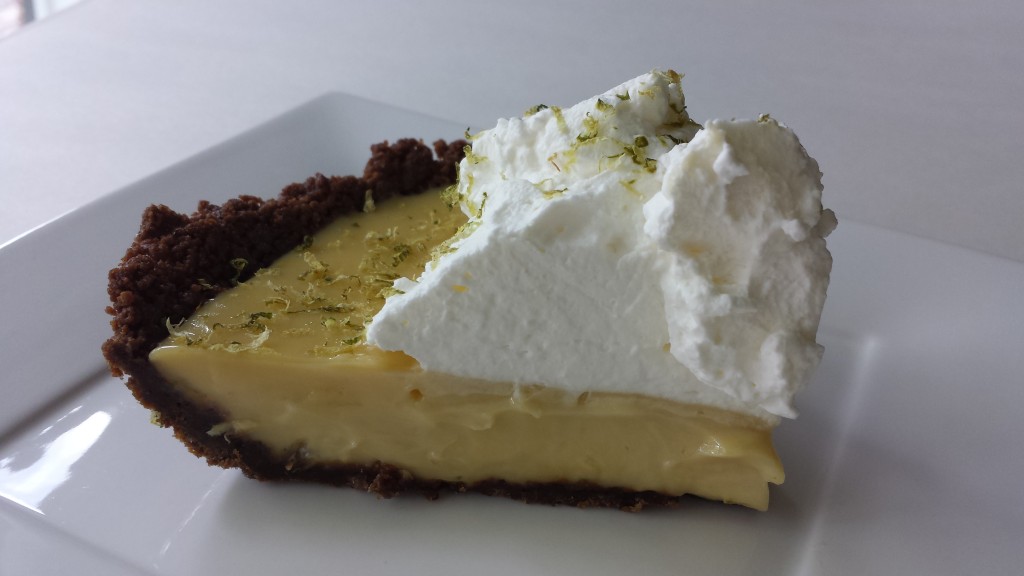 Okay, I'll say it right here and now: I resisted Key lime pie. I don't know why. I was oddly biased against it. Maybe it was a couple of nasty slices I had the misfortune to try; slices with an oddly artificial lime taste. I dunno. But whatever the reason, I chose not to put Key lime pie on my menu.
You can come trounce me now. Call me closed-minded. Call me insensitive to pie lovers everywhere, especially that special group who would lay down on the train tracks for a top-notch slice of Key lime. I confess: I deserve all those attacks.
But before you decide you hate me too much, let me tell you that I've seen the light. I've come around in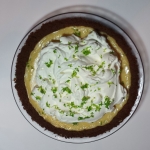 the biggest way. Some months ago, I got yet another in a long line of requests for Key lime pie, and I decided it was ridiculous to keep resisting. So I started experimenting with recipes, and of course I have to taste all the versions I bake before finalizing a recipe. Those tastes completely turned me around.
So creamy! So heavy and smooth on the tongue! So limey, in the best possible way! And the enchanting addition of lime zest, adding a little bitterness to the very sweet and citrusy custard! Completely lovely!
So, mea culpa, and I'm movin' on. I've got a Key lime pie recipe you'll love.
Traditional Key lime uses a graham cracker crust, and that really is nice. But a little voice in me wondered what the spiciness of a gingersnap crust might add to the affair. When I tried it, I fell in love with the flavor combo.
I have my dear Iowa pie sister Kathleen Beebout to thank for helping me get the volume of the filling right. Strangely,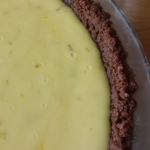 nearly every Key lime pie recipe I found used only one standard-sized can of sweetened evaporated milk, which makes–in my humble opinion–an unsatisfyingly thin layer of creamy filling. I followed Kathleen's lead, and upped the sweetened condensed milk and egg yolks by 50 percent. (She also had the brilliant idea, by the way, of rolling crushed macadamia nuts into her Key lime pie crust. Check it out! Kathleen's recipe won Parade Magazine's All American Pie-Off in 2011!)
Without further ado, here's the photo walk-through and the recipe. This is one of the easiest pies you'll ever make, too, so don't resist!
This is how easy it is: in a glass bowl (don't use metal), whisk together the egg yolks, pinch of salt, and lime zest.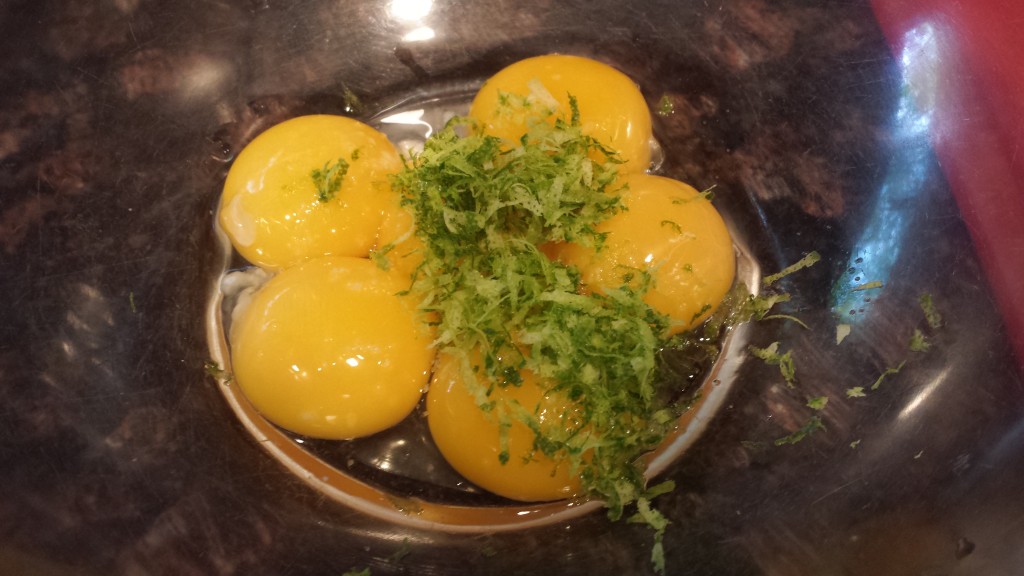 Whisk in the lime juice and sweetened condensed milk.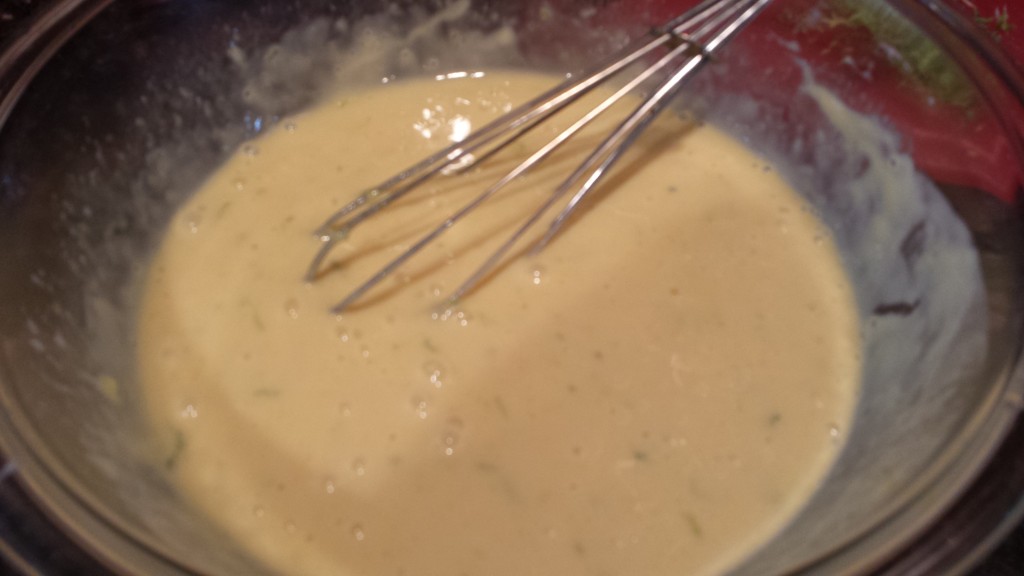 And there's your filling! (I know, right?)
While that's chilling in the fridge (it comes out better when you let it chill 20-30 minutes), make your crust. This is really easy, too.
Combine the gingersnap cookie crumbs and melted butter together in a bowl. Press into a 9-inch pie pan. Chill while the oven is preheating to 350. Bake 8 minutes. Take the crust out of the oven and cool slightly.
Reduce oven temperature to 325. Pour the filling into the slightly-cooled crust, and bake 15-20 minutes.
When the pie cools a bit, put it in the refrigerator. Just before you want to serve it, whip the heavy cream and confectioner's sugar together, spoon the whipped cream generously onto the pie, sprinkle the remaining lime zest on top, and enjoy!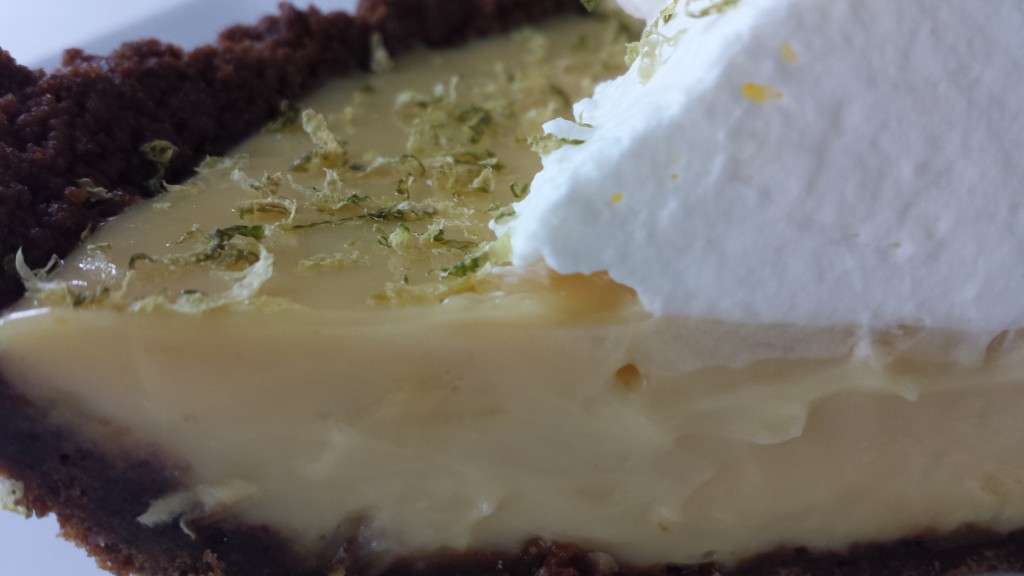 CurvyMama Pies' Key Lime Pie with Gingersnap Crust
2015-05-18 15:10:50
Crust
1 1/2 c. (7 ounces) gingersnap cookie crumbs, finely ground
5 2/3 Tbsp. (2.8 ounces) unsalted butter, melted
Filling
6 egg yolks
3 tsp. lime zest, divided
Pinch Kosher salt
1 1/2 14-ounce cans sweetened condensed milk
3/4 c. Key lime juice (Nellie's & Joe's brand is best if you can't find--or don't want to use--real Key limes)
Topping
1 1/2 c. heavy cream
2-3 Tbsp. confectioner's sugar
Instructions
Make the filling first. It benefits from sitting in the refrigerator for a while before baking.
In a large glass bowl (don't use metal), whisk together the egg yolks, 2 teaspoons of the lime zest, and the salt. Whisk in the sweetened condensed milk and the lime juice. Put the filling in the refrigerator while you make the crust.
In a medium bowl, combine the gingersnap cookie crumbs and the melted butter, blending with a fork to make sure the butter is distributed evenly through the cookie crumbs. Press into a standard 9-inch pie pan. Place in the refrigerator while oven is preheating to 350.
Bake crust for 8 minutes, just until it begins to give off a fragrance. Remove from oven and let cool slightly. (You can make the crust a day ahead of time, if you like.)
Reset the oven temperature to 325. Pour the filling into the baked crust. Bake 15-20 minutes, until the center is just set. Don't overbake. Cool on a rack. When the pie is barely warm or room temperature, transfer it to the refrigerator.
Just before you're ready to serve the pie, combine the heavy cream and the confectioner's sugar together in the bowl of a stand mixer. Whip until the cream has reached stiff peaks. Spoon the sweetened whipped cream into the center of the pie in an attractive mound, leaving some of the light-green custard visible around the periphery. Sprinkle the remaining 1 teaspoon lime zest over the whipped cream.
CurvyMama Pies https://curvymamapies.com/