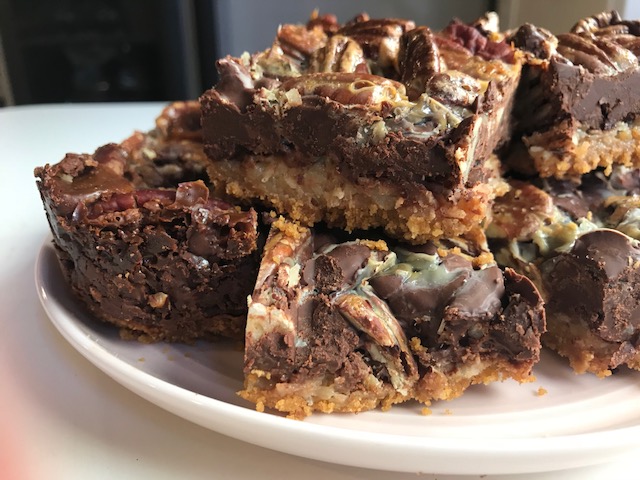 They're yummy, and they're a modern-day classic: perfectly chewy bars in layers of graham cracker crumbs, coconut, chocolate and nuts.
What do you call them? In my childhood, I knew them as Hello Dollys. Later, I heard them called by other names: seven-layer bars (when butterscotch chips were added) or magic bars. I wondered where my mom–a baker who always had something sweet ready for us–got the name "Hello Dollys."
It turns out that the name got popular in the mid 1960s, as the musical "Hello Dolly!" was taking Broadway by storm. Internet sleuths have traced its history to July 1965, when several versions appeared in community newspapers under the name "Hello Dolly Cookies." An 11-year-old Texas girl named Alecia Leigh Couch helped spread the gospel when she submitted her grandmother's version to Clementine Paddleford's food column for "This Week" magazine a few months later.
Since then, many versions have cropped up. Some use both white and semisweet chocolate. Others add butterscotch chips, bringing the number of layers to seven. Some use pecans instead of walnuts. I found one that kicks out the graham cracker crumbs in favor of vanilla wafer crumbs. One even uses caramelized Rice Krispies.
And new permutations continue. When Bette Midler headlined a "Hello Dolly!" revival on Broadway last year, a cafe near the Shubert Theater added a "Dolly sundae" to the menu: coconut ice cream, salted chocolate, caramel sauce, pecans, graham cracker crumble, whipped cream, toasted coconut and shaved chocolate.
My mom's version was the humble original, addictive in its perfect chewy simplicity. It was one of her most popular desserts; my friends would always ask if she had any "Hello Dollys." When I moved from California to Maryland in 1995, taking her beloved granddaughters with me, she included Hello Dollys in the cookbook she wrote by hand for me, hoping I'd carry on her traditions.
I have, mom.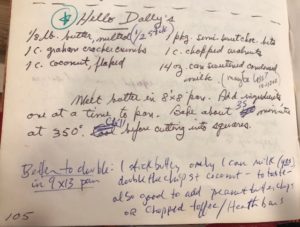 She's been gone three years already and I miss her every day. She'd be happy to know that her recipe is "out there" on the internet, making other people as happy as she made us when she baked them.
This recipe is sooooo easy. And it requires only one pan. No mixing bowls. (You heard me right.) The exact amounts are in the recipe card, below, but here's the basic idea: You melt butter in a square baking dish, spread the rest of the ingredients over it, one by one, top with sweetened condensed milk, and bake. You're done. (See? I wasn't kidding.)
It's as easy as that. Here's how they look fresh out of the oven: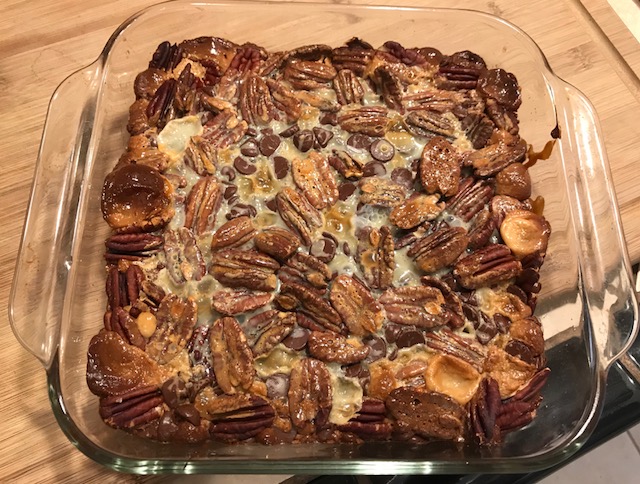 Enjoy! Wherever it is that loving mom-bakers go when they pass on, mom is smiling.
Judy Gewertz's Hello Dollys
2018-08-07 16:57:07
Ingredients
2 ounces (4 Tbsp) unsalted butter
1 cup graham cracker crumbs
1 cup shredded coconut
1 cup - 1 1/2 cups semisweet chocolate chips
1 cup walnuts or pecans (mom used walnuts)
1 14-ounce can sweetened, condensed milk
Instructions
Preheat oven to 350 degrees.
Cut the butter into pieces and put them in an 8" x 8" or 9" x 9" pan.
Put the pan over very low heat on the stovetop. Watch carefully, stirring occasionally, until butter is melted. Remove from heat.
Pour graham cracker crumbs evenly over melted butter.
Add the coconut in an even layer.
Add the chocolate chips in an even layer.
Add the nuts in an even layer.
Pour the milk over the surface of the mix, criss-crossing to cover evenly.
Bake at 350 for about 35 minutes, until edges and top are golden. Remove from oven.
Let cool. Cut into squares.
CurvyMama Pies http://curvymamapies.com/