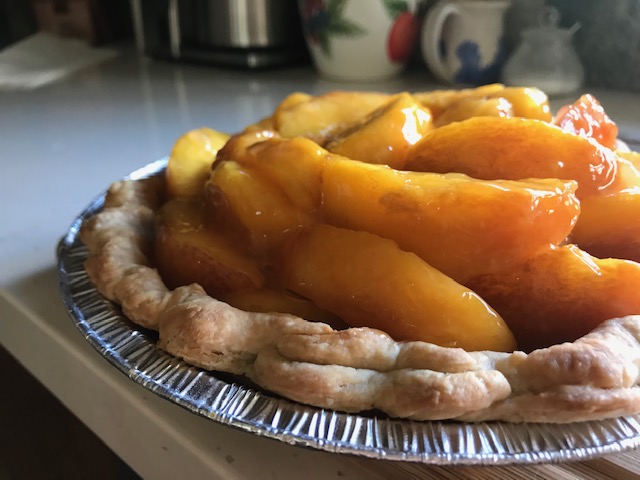 No point in beating around the bush: This is my favorite summer pie. I know I put it in the headline, but I just needed to say it again right here.
I do love the other gifts summer brings us: heaping baskets of berries, and stone fruits like apricots and plums. But no fruit is quite as grand in a pie as peaches.
I'm talking about peaches the way Mother Nature intended: untouched by the heat of an oven. The thick slices, folded in a light glaze, and piled high in an already-baked golden crust. Served with or without ice cream or homemade whipped cream, this pie lays people flat wherever it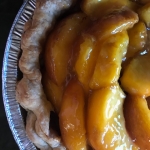 goes.
It's so easy, too! To you worried pie newbies: You can DO this! If you don't want to make and roll your own dough, you can buy a good frozen one (Trader Joe's has a nice one) and simply lay it out in the pan, then crimp the edges.
So what does it take? Here's how you do it. (Scroll down for the ingredients list and step-by-step instructions.) When you taste your fresh peach pie, drop me a note (curvymamapies@gmail.com) and tell me that it isn't heaven on earth!
Here's the deal: Blind-bake a single pie crust. Quickly blanch the peaches, then peel, pit, and slice thickly. On the stovetop, in less than 3 minutes, make a lovely, slightly-sweet peachy glaze. Stir the glaze into the sliced peaches, and pile that gorgeous mix into your empty pie crust.
That's it!
Here's how you do it.
Ingredients:
One blind-baked pie crust for a 9-inch pie (Here's my all-butter dough recipe, which includes blind-baking directions. Here's my butter-and-leaf-lard dough recipe.)
3 pounds ripe, top-quality peaches
1/2 cup + 2 Tbsp water, divided
1/3 cup granulated sugar
2 Tbsp. cornstarch
Pinch of Kosher salt
Directions:
Make a batch of pie dough. My recipes for all-butter and butter-and-leaf-lard dough make enough for two big disks of dough. Wrap one and freeze it for later. Put the other in the refrigerator for an hour or so.
Prepare a large bowl of ice water. Have it near the stove.
Fill a 6-quart soup pot half-full with water and put it on high heat. When the water gives off steam, turn off the heat. Using a large slotted spoon, gently lower the peaches into the water. Leave them there only 15 seconds. Lift them out again and place them in the ice water. After five minutes, take them out and put them on a cutting board.
Once the peaches have cooled to room temperature, cut them in half and remove the pits. Peel each half, and cut it into four or five thick slices. Put the peach slices in a large bowl.
In a small saucepan on the stove, combine 1/2 cup water with 1/3 cup sugar over medium-high heat. Stir until sugar is dissolved. Add one cup of the peach slices.
In a small bowl, combine the remaining 2 Tbsp. water with the 2 Tbsp. cornstarch. Stir til blended.
Bring the sugar-water-peach mixture to a boil. Turn heat down to medium and simmer for 30 seconds.
Add the cornstarch-water mix, taking care to stir constantly while you're pouring it in so no lumps form. Add the salt. Cook 1-2 minutes more, until the mixture thickens. Set aside to cool slightly.
When the glaze is still quite warm, but not hot, pour it over the peaches and stir just enough to mix. Pour the filling into the baked crust.
This pie is best eaten right away, and finished off the day you make it. (She did NOT say that! Oh YES she did!)