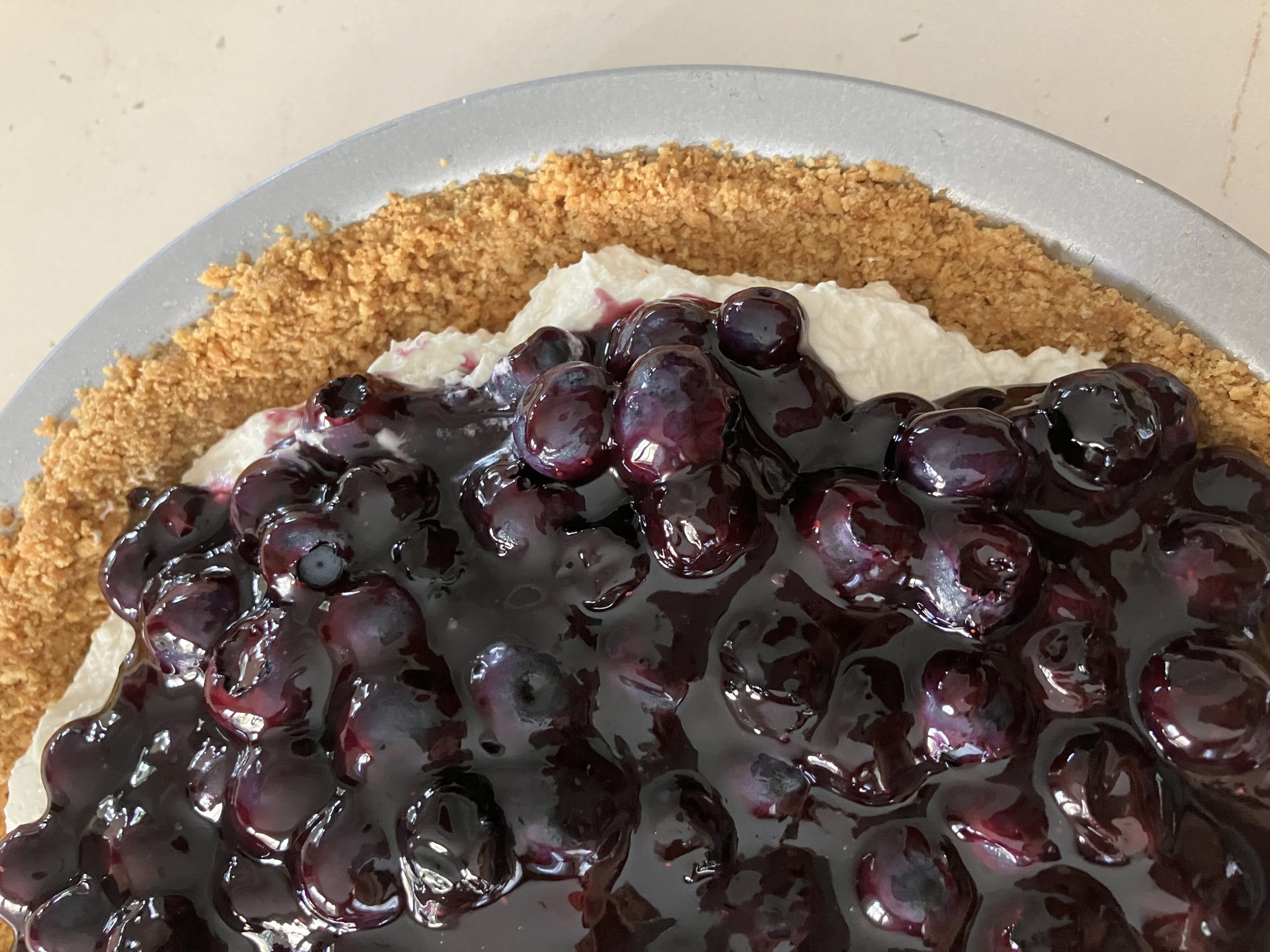 It's one of the sweetest dessert memories from my childhood in the 60s: My mom approaching a table full of friends and family with a glistening, midnight-blue pie in her hands.
Everyone who knew Judy Gewertz knew her as a baker. Her brownies were legendary. Her carrot cake still inspires demands for the recipe. But her blueberry cream cheese pie wowed everyone the minute they saw it, and prompted moans of pleasure with the first bite.
This pie is as easy as it is delicious, too. No need to roll a pastry crust; simply pressing graham cracker crumbs mixed with butter into a pie pan will do the trick. The fillings are a breeze, too.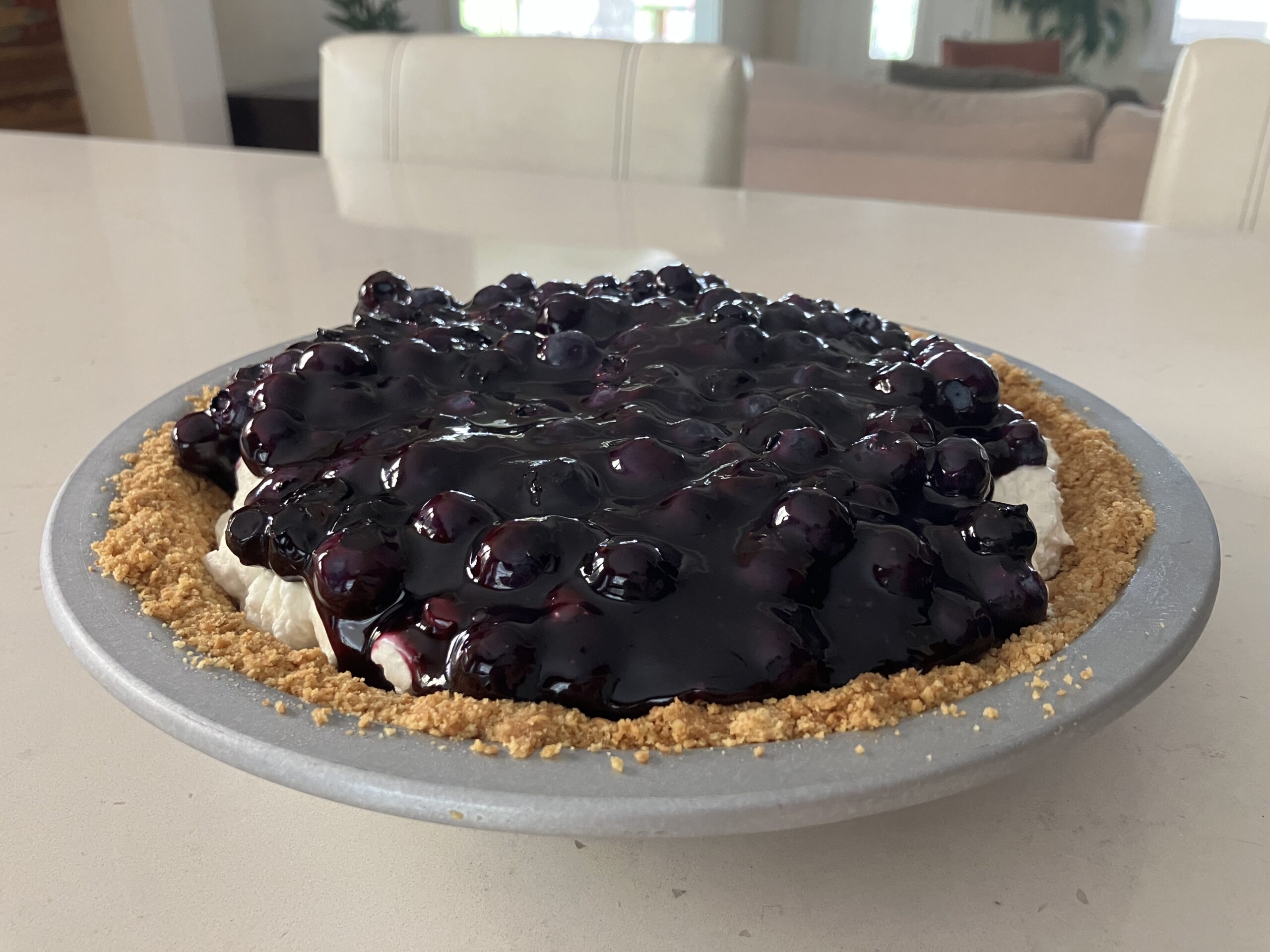 Mom included this pie — and a handful of others — in the hand-written cookbook she made me when I moved cross-country in 1995. She called it a "blueberry cheese pie," but here I'm adding "cream" into the title.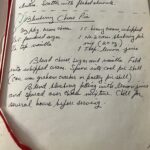 I made this pie a few days ago to take to a dinner with my cousin, her wife, and their son. They adored my parents, and after only a bite or two, they started reminiscing about the lovely afternoons they spent at my parents' Santa Monica home, eating, drinking laughing.
This pie has a welcoming look. As my mother would have said: "Nothing fancy!" That should be reassuring to those of you who feel intimidated by making a pie with a pastry crust. This pie is so simple, in fact, that I can skip step-by-step instructions and photos. Just follow the recipe at the bottom of this post!
Here's all it takes: Press a blend of graham cracker crumbs and melted butter into a pie pan and bake; mix whipped cream with softened, sweetened cream cheese and vanilla; buy a can of blueberry pie filling (mom's way) or whip up a quick filling in a saucepan (my way). Layer the two fillings in the cooled crust, and voila! Judy's famous blueberry cream cheese pie.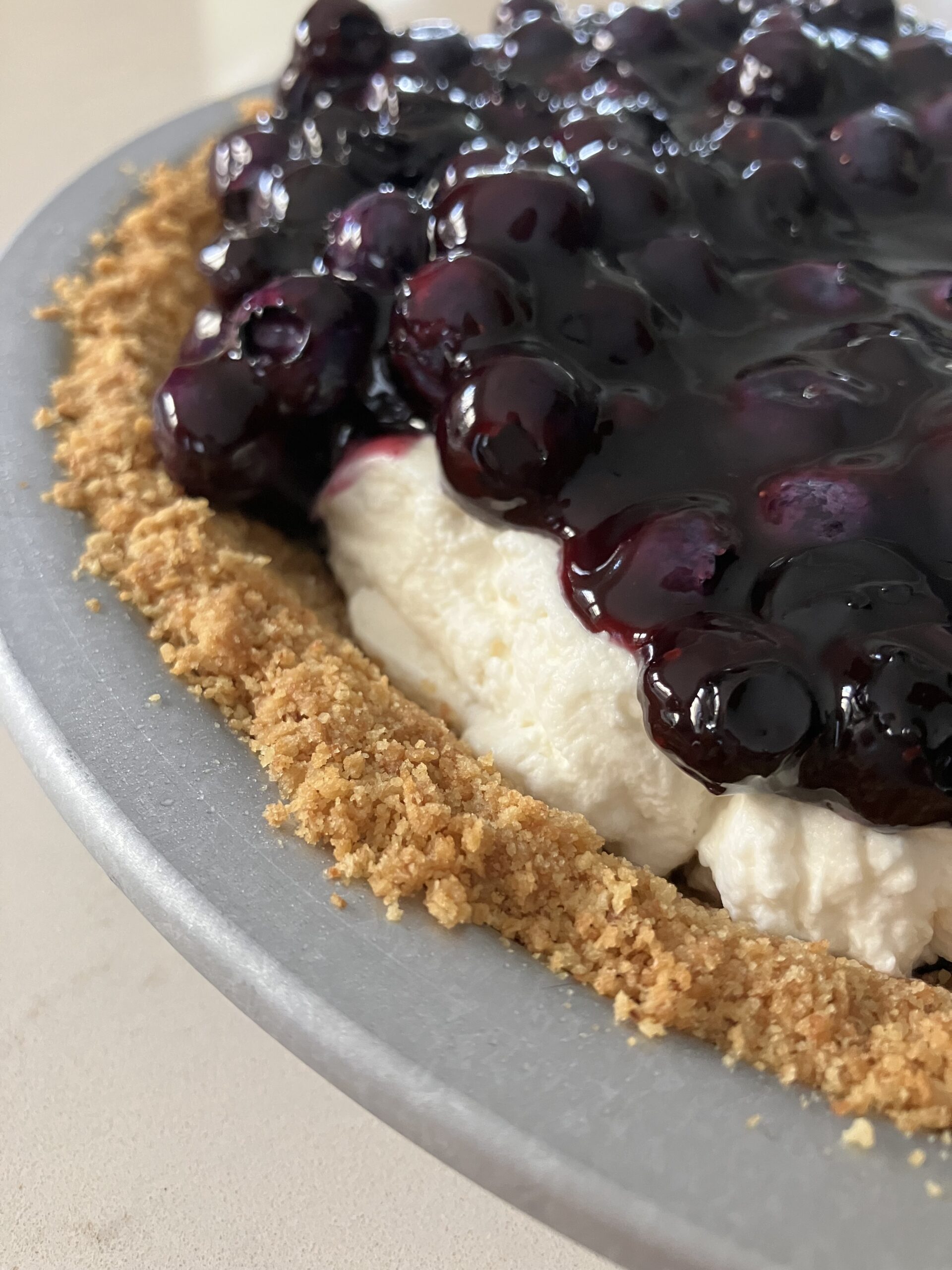 It's hard to believe you've been gone six years now, mom. I miss you. But making this pie makes me feel closer to you.
Dear readers, I hope you love this as much as my friends and family do. Did your loved ones make anything like this in the 1960s (or later)?
Write and share recipes and memories!
Mom's Blueberry Cream Cheese Pie
Fresh blueberry topping over sweetened whipped cream cheese filling, in a graham cracker crust.
Ingredients
7

ounces

graham crackers

2.8

ounces

salted butter

3

ounces

cream cheese

regular, brick, softened 1 hour at room temperature

1/2

c.

powdered sugar

1/2

tsp.

vanilla

1

cup

heavy cream

whipped

18

ounces

fresh blueberries

divided in half

6

Tbsp.

water

divided

3

Tbsp.

cornstarch

3/4

cup

sugar

1/4

tsp.

nutmeg

1/8

tsp.

cinnamon

Splash of fresh lemon juice
Instructions
In a food processor, buzz graham crackers into fine crumbs. Pour into a bowl.

In a small saucepan (or bowl in the microwave), melt butter. Pour butter over graham cracker crumbs. Mix thoroughly with fork until combined. Pour mixture into 9-inch diameter pie pan. Press firmly.

Preheat oven to 350. While oven is preheating, chill pie crust.

When oven has come to temperature, bake crust about 8 minutes, until fragrant. Remove from oven and let cool.

In a medium bowl, blend cream cheese, sugar and vanilla. In a separate bowl, with an electric mixer, beat cream to stiff peaks. Fold the whipped cream into the cream cheese mixture. Spoon into cooled pie shell and refrigerate.

Put half of the blueberries in a large bowl and set aside.

In a small bowl, combine 3 Tbsp. of the water with the cornstarch.

In a medium saucepan, combine the other half of the blueberries with the sugar, the remaining 3 Tbsp. of water, and the spices. Bring the berries to a simmer over medium heat, and stir in the cornstarch mixture. Reduce heat to low and simmer until the mixture thickens. Turn off the heat and stir in the lemon juice.

Pour the hot blueberry mix into a bowl to cool to barely warm or room temperature. Add the rest of the blueberries and mix. Spread over the cream cheese filling. Chill several hours before serving.
Notes
Mom's hand-written recipe instructs bakers to use "1 No. 2 can of. blueberry pie mix (20 ounces)." You can certainly use canned pie filling. She did, and everyone loved this pie.