A bunch of my friends got into an animated discussion the other day on Facebook about buttermilk pie and chess pie. Many of us weren't too familiar with these pies, hailing as we do from some place other than the South. So I decided that this was a great chance to do another CurvyMama Pies smackdown.
If you're not familiar with our smackdowns, you can calm yourself, because there is no violence involved. It's just my way of putting two kind-of-similar pies before an audience of tasters and seeing what they think. Take a look at my other smackdown posts about lemon, apple, and pumpkin pie.
The buttermilk-and-chess dialog unfolded on Pie Nation, a Facebook group I created with pie sister Kate McDermott of Art of the Pie in Washington State. (We're happy to add you to the group if you send us a message on Facebook!) When my pie pal Gary Bates from Texas posted about his buttermilk pie, that just sounded too tempting and comforting and creamy to pass up. In discussing his pie, some other folks asked how it was similar to classic Southern chess pie, and off the dialog went. Thirty-five comments later, we had recipes posted and I had a smackdown plan.
Before I go any further, let me say that I am not using CurvyMama Pies recipes here. (And this buttermilk pie is an entirely different thing than the Bubby's buttermilk pie that I blogged about last year. Both are delicious; just really, really different.) Once I tinker with these pies a bit more and settle on a version I like best, I'll post again. But for now, I wanted to tell you what I made, and how my coworkers reacted when I brought them into the office.
The picture Gary posted of his buttermilk pie looked so yummy that I decided to use the recipe he used, from Food.com. For the chess pie, I used a recipe from Southern Living, which Kate pointed out (although she noted that this one is too sweet for her, and she has her own much-less-sweet version).
While the chess pie is pretty well established as a Southern treat, I found the heritage of the buttermilk pie harder to pin down. I found reports that it had originated in the United Kingdom and made its way to the American South. I also saw it referred to as Amish. But whatever its origins, it's far more familiar now to Southerners than to those in the North.
Both pies have a similar base: melted butter, lots of white sugar, eggs and a little flour. But the chess pie is sweeter, and has the trademark cornmeal and vinegar, producing a filling that tastes like "yummy yellow cake batter," according to my dear Missouri-born pal and pie lover Lesli.
The buttermilk pie delivers a more custardy filling, but is still pretty sweet, too.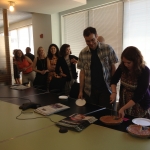 Placed in front of a hungry newsroom at midafternoon, these pies couldn't have been more welcome. (Well, in truth, any pie would have been welcome for this crowd.) They gushed over the sweet treats, but broke clearly for the buttermilk pie. The room was heavily tilted toward Northerners, some of whom commented that the chess pie was just too sweet for their taste. And the few who liked the chess pie better did have some Southern blood in them.
For this New York-and-California girl, the buttermilk was the winner. So creamy, simple and comforting. I will tinker with it and produce a version that's purely CurvyMama. But the chess pie shouldn't be overshadowed; its texture was wonderful, like the richest, moistest blondie you could imagine. (Remember, I love chess pie enough to create the Aztec Chocolate Chess pie, which deploys a chocolate chess base in a whole new way.) I'll make more, cutting back on the sugar, and I'll try more variations (coconut, lemon, etc). Stay tuned!