From New York City
Pie Face
New York City
www.pieface.com
It's been a while since we posted a pie shop review. But thanks to Jess Tonn, an esteemed member of the CurvyMama Pie-Tasting Posse, we have an intriguing review of a pie shop in the Big Apple. Read on for Jess' report.
A 12-Pie Lunch Break
I'll admit it: I went into my visit to Pie Face in Times Square with a bad attitude. An Australian pie chain in Times Square? How good could it possibly be? And if it was good, I'd be in big trouble. Its location-—just a block and a half from my office—-is dangerously close for comfort.
So, I've been surprised to find myself thinking about my Pie Face meal ever since.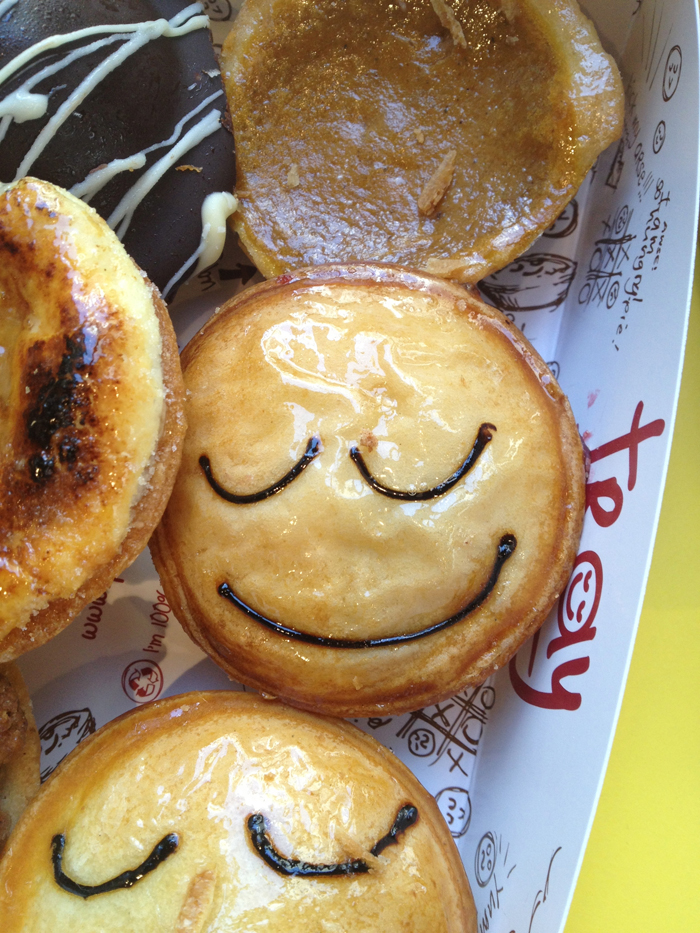 Two coworkers and I split a dozen mini pies when we visited, giving us a decent representation of the array of sweet and savory selections at the shop. The savory pies were by far the standouts, with our favorites being the Tandoori Vegetable Pie and the Thai Chicken Curry Pie. Gotta give these Australians some props—they sure can make a good meat pie filling. Amazing how many chunks of meat, vegetables, and beans they're able to fit into one 3-4" pie.
Readers of this blog will no doubt want to know about the crust. The simple answer is "meh." The counter staff confirmed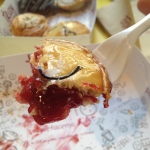 that they use butter for the crust-—"our boss is really into that sorta thing"—-and the savory pies had a flaky crust that didn't overpower the fillings. But it lacked the homemade taste advertised on their menu, resulting in a meal that was more reminiscent of a frozen dinner than grandma's home cooking.
The sweet pies were a bit of a disappointment. The chefs need to work on the crust-to-filling ratio here, as we found the thicker crusts on the sweet pies to be a bit tough. And more crust equals less filling. Not a good thing in a shop whose strength lies between the crusts.
We also found many of the dessert pies to be overly sweet, with a sugary glaze that distracted from the large chunks of fruit and other flavors inside. The one exception was the pumpkin pie: divine. Again, the chefs at Pie Face showed that they really do know their way around a spice cabinet.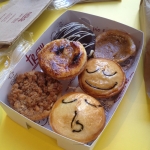 Twelve pies and five cups of coffee later, will we be going back to Pie Face? Sure, but we'll be sticking to the savory pies, especially the Tandoori Vegetable that I'm curious to try in its "stacked" form—-topped with mashed potatoes, gravy, and mashed peas. Will we be going back every day? No. And that's just fine with me, my colleagues, and our waistlines.
All photos by Kristen Myers
Text by Jess Tonn (big hugs, Jess!)