From Santa Monica, Calif.
We thought it would be a little slice of heaven: a local eatery that bakes a dozen types of pie in-house. Coconut praline? Banana brownie? How could it disappoint?
Well, it did.
Santa Monica, Ca.
Babalu is adorable. No doubt about it. It sits fetchingly on a charming little corner of trendy Montana Avenue in Santa Monica, showing off its Caribbean exterior decor, while the cool beach breezes roll by. It's been there forever, too, or least as far back as I can remember, and I lived in Santa Monica in the early 80s.
Until this week, though, I didn't know that their pies had a cult following. On a visit to the CurvyMama parents, who live around the corner, I knew this was a required field trip. And who better to go pie-sampling with than one of the dearest people on Earth, my pal Don, who is not only a fab-fab-fabulous designer, but a wonderful, sensual, deeply appreciative eater.
For dinner, we shared three little appetizers, the better to have room for pie. Of the half-dozen fruit pies on the list, we chose strawberry-rhubarb. And from the creams, we chose pecan-chocolate, (I know, it was listed with the cream pies. Intriguing.) coconut praline, and banana brownie. We were so excited we zipped through the appetizers before we even finished debriefing all the interpersonal dynamics from the party at his house the other night.
Our drop-dead-gorgeous waiter, Jeremy, laid the four pie slices across our table with great flourish, and withdrew. (He knew we were blogging about them, so he was quite obliging when Don asked if we could raise the outside blinds to improve the lighting for the pie photos.) The light was just right, and the pies looked their Hollywood best.
Except… they… didn't… taste that great.
The strawberry-rhubarb had a nice, jammy filling spiked with appealing chunks of rhubarb. But the crust was a deal-killer. Maybe it had been sitting in the case since the day before. Or maybe it just leaned a little too heavily–or exclusively–toward shortening. But it was mealy and tasteless.
The brownie-banana was a good idea that fell short in real life. The banana custard was very nice, hefty and smooth, surrounding nice slices of perfectly ripe bananas. But the brownie crust was cakey, and turned to paste in my mouth. It made another appearance, too, between two layers of banana custard, so the pasty effect was even more intense. Disappointing.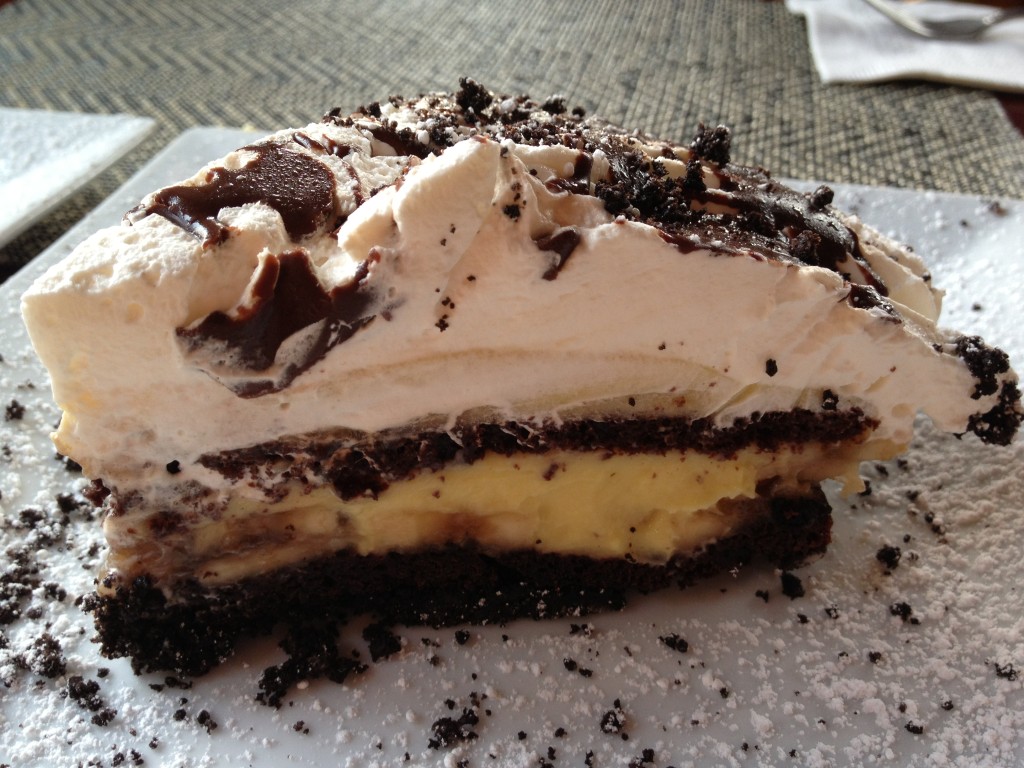 Don and I enjoyed the pecan pie filling, studded with bits of bittersweet chocolate. We both remarked that for a pie that can be cloyingly sweet, this pecan pie got the sweet quotient just right. The crust on this pie was better than on the strawberry-rhubarb–fresher, with a little more body–but still, it was lacking in the flavor and flakiness departments.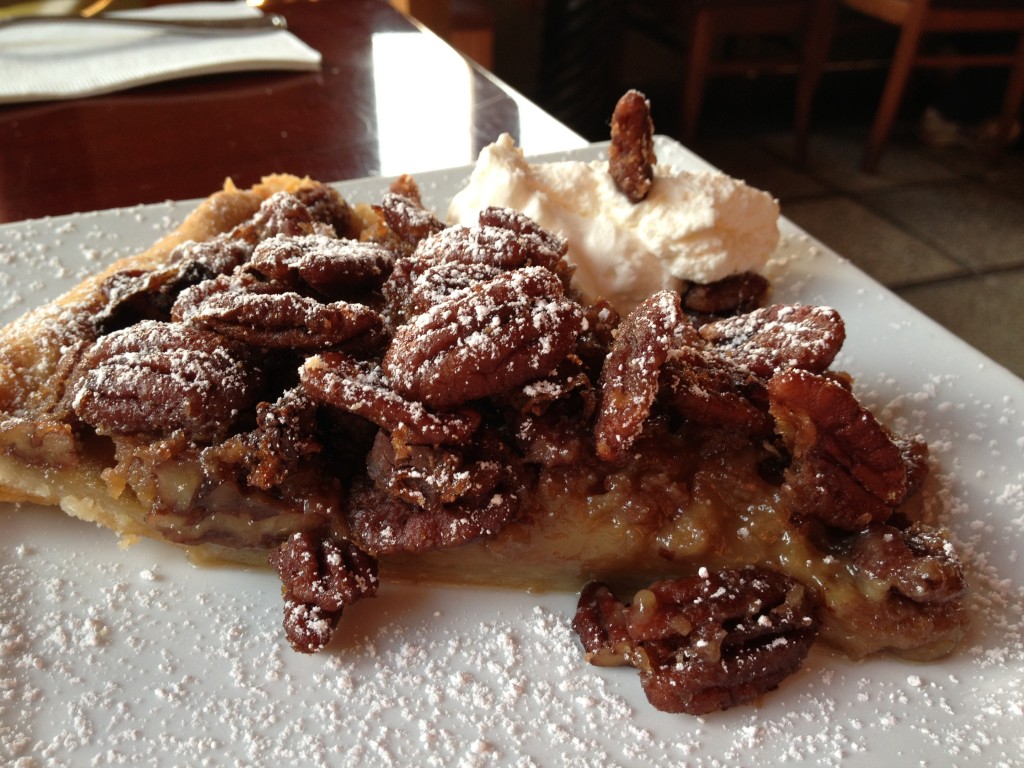 The same disappointing crust accompanied the coconut-praline filling, so that pie lost points with us, too. But once again, the filling was lovely: heavy, creamy, full of nice shredded coconut. Don was a bigger fan of the praline lining the crust than was I; I didn't see that it added much.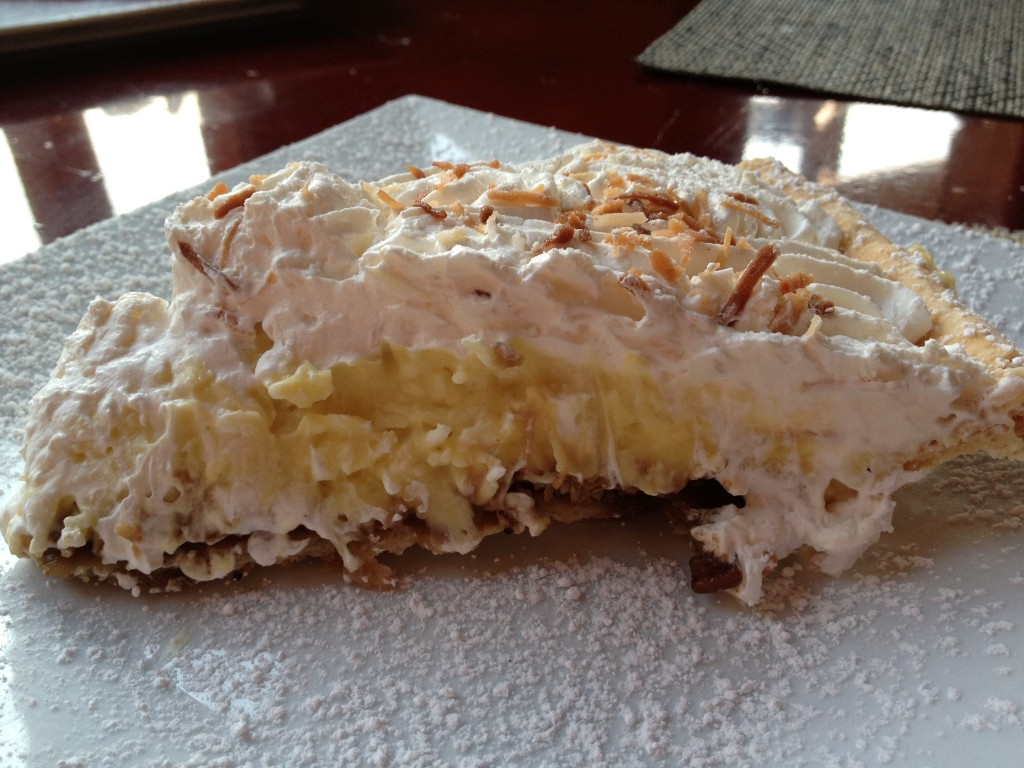 All in all, we'd give Babalu a "meh" for their pies.
But full-on pie glory was yet to come: we found it in a barbecue joint in the gayest of gay places, West Hollywood. Check our review of Porch Pies' stratospherically good buttermilk pie as soon as we get it written!