From West Hollywood, Calif.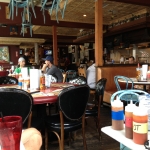 Porch Pies (at Baby Blues BBQ)
Los Angeles
CurvyMama managed two pie pilgrimages during a five-day visit to Los Angeles, and one was as breathtakingly good as the other was forgettable.
Just the other day, we told you about four slices of pie from Babalu that were simply meh, despite the place's reputation as a destination for pie lovers. Today, we are here to tell you that one simple slice of buttermilk pie not only restored our faith in Los Angeles pie, but in all pie, everywhere.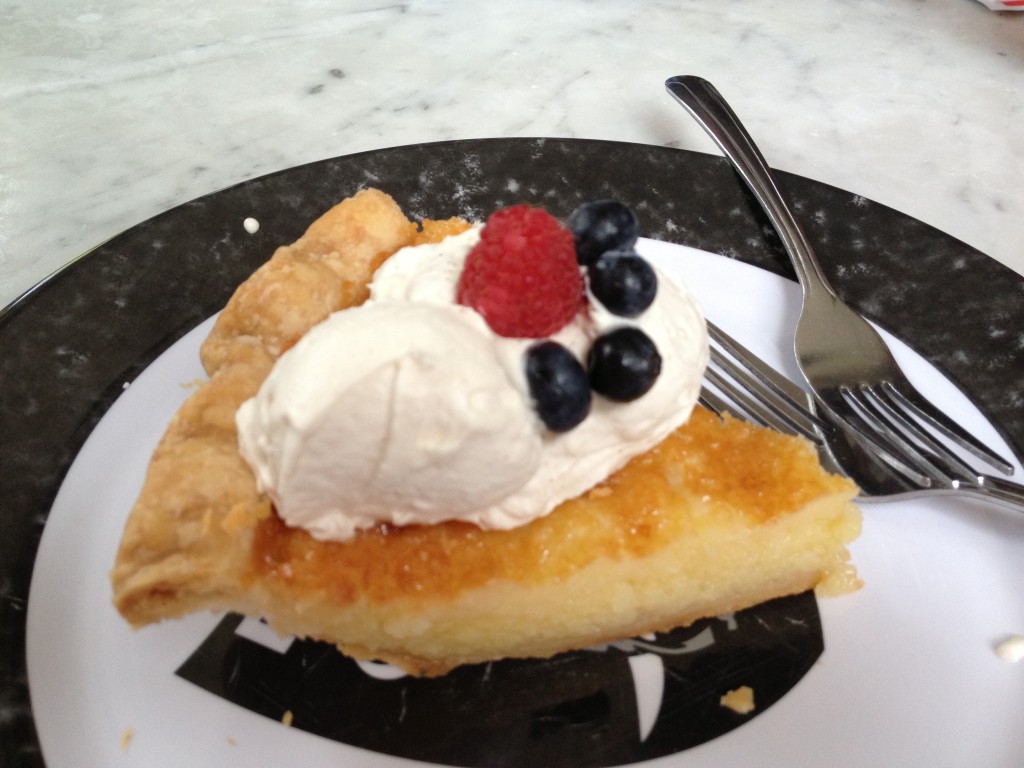 Sublime! This slice of pie was comforting, custardy, sweet, perfectly balanced against a firm, flaky, flavorful crust. A triumph! My beloved pal Don, who had accompanied me on our disappointing trip to Babalu, looked at me in amazement during his first bite of this buttermilk pie. His thought was broadcast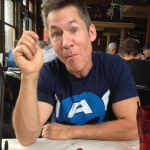 clearly on his joyful face: This is what good pie is supposed to taste like! Yay!!
Clearly, this baker knows what she is doing. And when it comes to a Southern pie like buttermilk, Robyn Poarch has some serious street cred. The Atlanta-born Poarch is churning out Southern pies from her perch in Los Angeles. She has no storefront, so a few lucky restaurants and bakeshops are the sole distributors of her pies. (I also note, for those of you outside L.A., that she also ships pies.) Following a trail of rave reviews, I hunted down Porch Pies at Baby Blues BBQ in the heart of tres gay West Hollywood.
Baby Blues BBQ is appealing funky and free-spirited. Life can get a lot worse than eating smoky brisket with your bestest boyfriend in a whimsically decorated, light and airy room filled with the sounds of Stevie Ray Vaughn and Buddy Guy. As good as the barbecue, the company, and the environment were, though, life got even better when it was time for dessert.
Our very friendly, heavily tattooed waitress was all smiles about the buttermilk pie, but wasn't shy about pushing another dessert made by one of her fellow employees at Baby Blues: a confection she described as a pie, made of threateningly dark chocolate, bacon, barbecue sauce, and Guinness. Don and I exchanged a meaningful look. There was no way we could walk away from that. Bring it on.
It was funny though; when this amazing dessert arrived, it looked mysteriously, unmistakably, like cake. It was, in fact, cake. No disputing that. But what the hell; cake, pie, it's all good in the CurvyMama world. And I was–and am–impressed that one of the gals at Baby Blues is whipping it up in her not-very-spare time. You go, girl! I never got her name, but our waitress says she connects with customers through her Facebook page, "I Made It Myself."
The cake was really lovely. Coated with dark ganache, and admirably restrained on the sweetness to let the dark chocolate flavor come through, with its hints of smoke from the bacon, and an added depth from the stout. I can't say I picked up on the barbecue sauce in the cake, but I am still full of love for the idea.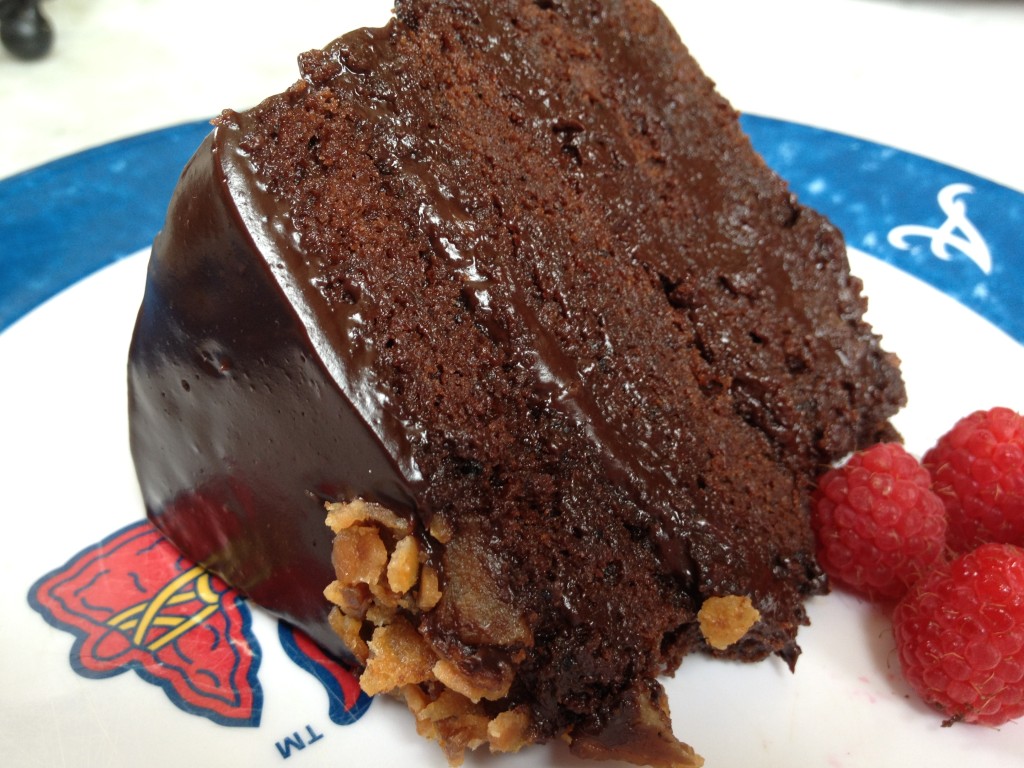 Here's how Don looked as he tried to locate all the flavors in the chocolate cake.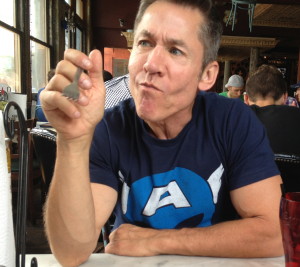 And here's how he looked after the barbecue sandwiches, cake and heavenly buttermilk pie.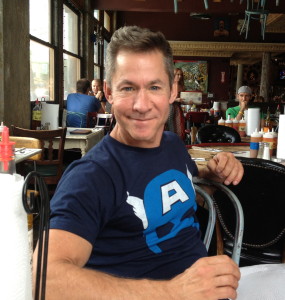 All in all, a great day in the city of the angels.