Can you detect the difference between butter that has 84 percent butterfat and one that has 91 percent butterfat? What do you think of the taste of cultured butter compared with sweet cream butter?
These are the kinds of questions I pressed on my ever-patient colleagues in the newsroom during yesterday's butter smackdown. And just like they always do, they came through with flying colors. This smart, observant and always hungry crowd turned out in surprising numbers for the strangest workplace experiment I've mounted yet: tasting nine different butters.
I staged this smackdown as part of my quest to use better butter. I've been using Land O' Lakes unsalted, which has been just fine in conjunction with the marvelous leaf lard that I get from a wondrous local butcher, Pam Ginsberg at Wagshal's here in Washington, D.C.
But I've been feeling this strange yearning, and when I tuned in to it, it whispered: "Better butter. Smoother. Creamier. More flavorful. Find it." So I started my research.
Much of the butter question, it turns out, boils down to two things: butterfat content and cultures. A higher butterfat content lowers the water content and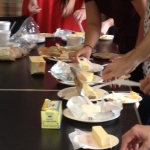 deepens the butter flavor, and both of those things are good for pie crust. The cultures question is a matter of taste.
Cultured butter has a slight acidic tang because the cream is cultured before it's made into butter. This type of butter is dominant in Europe. But here in the U.S., most of our butter is uncultured, or "sweet cream" butter, made from cream without cultures.
I set out to see what difference that culturing and butterfat content make in the straight-ahead butter-eating experience. How these different butters bake up is a whole other question that I haven't yet taken on. But soon! And I will report on that to you. But in the meantime, I'll share what my taste-attentive colleagues said about their butter-eating experience.
As you can see from the photos, they took their duties very seriously. Some even identified and numbered the choices on paper plates with sticky notes or a Sharpie.
My colleagues worked their way through tastes of nine butters at the smackdown. All but the last two are produced here in the U.S. Most are sweet cream. I've noted the cultured butters.
Minerva Amish Butter (84% butterfat; Ohio)
Organic Valley Organic Sweet Cream (but is labeled "cultured" and lists "microbial cultures" among its ingredients) (Wisconsin)
Organic Valley European style Cultured, 84% (Wisconsin)
Plugra, 82% (Texas)
Vermont Butter & Cheese unsalted (cultured), 86% (Vermont)
Tricking Springs Organic Unsalted, block, 91% (Pennsylvania)
Trickling Springs Organic Unsalted Farm Fresh, in a tub, 91% (Pennsylvania)
Kerrygold (cultured) 82% (Ireland)
Delitia (cultured) (Italy)
It wasn't always easy to ascertain the butterfat content of each product (why the big mystery, buttermakers? Come on! Put it right on the package!). Where we could see it easily or find it online, we listed it here.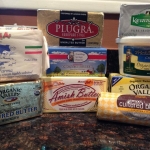 The big winners in the newsroom were the two butters from Organic Valley, although we were still a bit unclear how the two were different. The Trickling Springs tub butter was a big favorite, too, more so than the block. My coworkers raved about the fresh, creamy flavor of all three of their favorites.
With the exception of the Organic Valley European Style Cultured butter, my tasters didn't think much of the cultured butters. They complained of an unpleasant tang, with one going so far as to say the butter tasted too "cheesy" (he was referring to the Vermont Butter & Cheese butter).
I tended to agree with them, though I think they overlooked a sleeper, the Italian butter, Delitia. I think it has a lovely, creamy and delicate flavor. How these butters work in baking, though, is yet to be seen. A perfect test, it seems to me, would be a few batches of shortbread cookies, which are all about the butter. Then we can try some different butters in pie dough.
What will CurvyMama end up using for her piecrust? We're not sure yet. It turns out our Land O' Lakes has gotten some real respect from a very respected source: Cook's Illustrated. In a featured piece a couple years ago, Cook's Illustrated tasters ranked Land O'Lakes second behind Plugra in a taste-and-baking test.
I'm hardly the only one to be so obsessed with butter. Saveur lists 30 great butters. Fork and Bottle.com has a page with comments about lots of butters, too.
It will take some time–and lots of playing around in the kitchen–to figure out whether I'll switch from the delicious and affordable Land O' Lakes to something else. I also have to factor in cost; some of these yummy butters cost twice what I'm spending at Target (the cheapest place) to get my Land O' Lakes. I'd love to use locally produced butter (Trickling Springs, in this case), but the higher price might make that impossible, as long as my main line is selling pies (as opposed to teaching workshops or just baking for fun).
Who knows? If you're not careful, you might even end up reading about me making my own butter at home. Stay tuned.
When the tasting was all over, I thanked my wonderful colleagues by sharing a loaf of double-chocolate zucchini bread. It was a merciful choice, since it is [almost] good for you. After all, it has not one trace of butter.