I couldn't help it. I tried to come home from work and relax, do a few things around the house, curl up with a good book. But the zucchini was calling me, with its thin, whiny voice, from the refrigerator. Okay, I thought, I can resist that skinny-ass zucchini. It was when the avocado chimed in that I lost all hope.
Okay, forget it! I give up! I said, throwing down my book in disgust and dragging myself off the couch. I'll bake something! Just be quiet!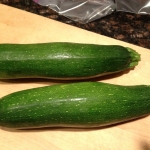 What, you say? Bake something? With avocado and zucchini? Eeeewwwwww!!!!
Yeah, I know. That's really the only reasonable reaction you could have to my story so far. But wait. You'll see it turns out better than it might seem at first.
You see, I had been haunted the last few days by all the things I've stopped baking. I've been making pie after pie… for customers, for friends… one at a time and by the dozen, for weddings or Thanksgiving onslaughts. But the other day I dared to leaf through the dessert section of my old cookbook, the one that's been gathering dust while the pages of my CurvyMama cookbook get dogeared. I flipped to the back section, full of gooey caramel brownies and salted oat cookies, blueberry shortcakes and German chocolate cakes.
A tear came to my eye. How long has it been since I baked thumb cookies, the buttery delights with the
little hollow in the middle full of raspberry jam? My mom used to make those for me, and I have made many a Valentine's Day batch for my two girls. When was the last time that I dazzled a roomful of eaters with the triple-layer coconut cake, blissed out a dinner gathering with lemon-lavender panna cotta, or passed around a batch of friendly apricot squares with my pals?
How long? So long I couldn't remember. Shame on me.
So I decided to dive back into the back half of my old cookbook and bake something new; something that had been waiting there for years to get its chance. I decided to cobble together a couple of brownie recipes that purport to be virtuous (because Lord knows, CurvyMama's Killer Brownies are the polar opposite). One substitutes applesauce and zucchini for butter; another uses avocado and oil. I merged them and came up with a batch of brownies that uses healthy fats in place of butter. And I love them!
Now that is saying something, coming from me. I am really cranky and suspicious when someone tells me they've subbed out my beloved butter for some healthier substance. I'm inclined to bite their hand off and snarl, "Don't take my butter. Don't. Do. It." I'vealso been known to rise from my chair and proclaim: Give me butter or give me death. Call me dramatic; I've been called worse. I'm just telling you, that's the kind of girl I am; I love my butter, my chocolate, and I think that trying to substitute healthier things just makes a crappier dessert. (Please don't get me started on the 70s campaign to persuade us that carob was a great substitute for chocolate.)
So without further ado, what did I do? After all this ranting and raving, I made a batch of brownies that I'm pretty damn happy about. And after eating three or four of them, nice and warm, I feel a little halo hanging over my head. Damn, am I feeling smug.
Here is the photo play-by-play. The recipe's at the end.
I combined applesauce, canola oil, sugar, an egg and vanilla extract in a bowl. I mashed half an avocado in a small bowl, and added it to the applesauce-egg mixture.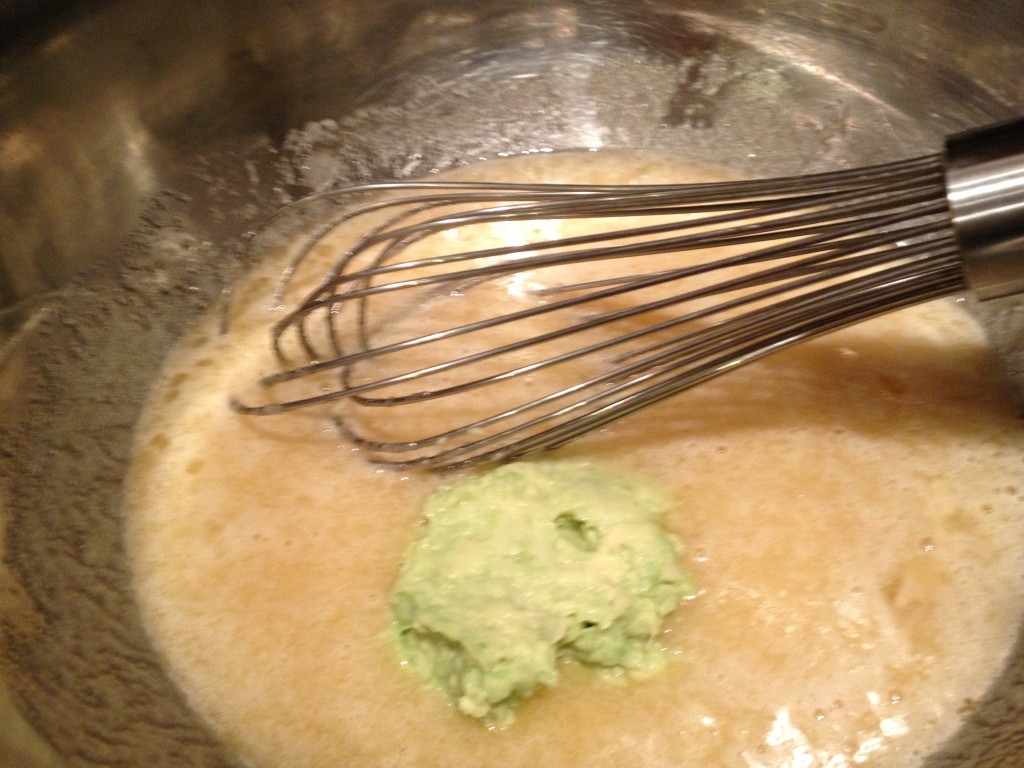 Then I added all-purpose flour, good dark Dutch cocoa, baking soda and salt and stirred everything together. It got pretty thick; I had to abandon my whisk and use a big spoon.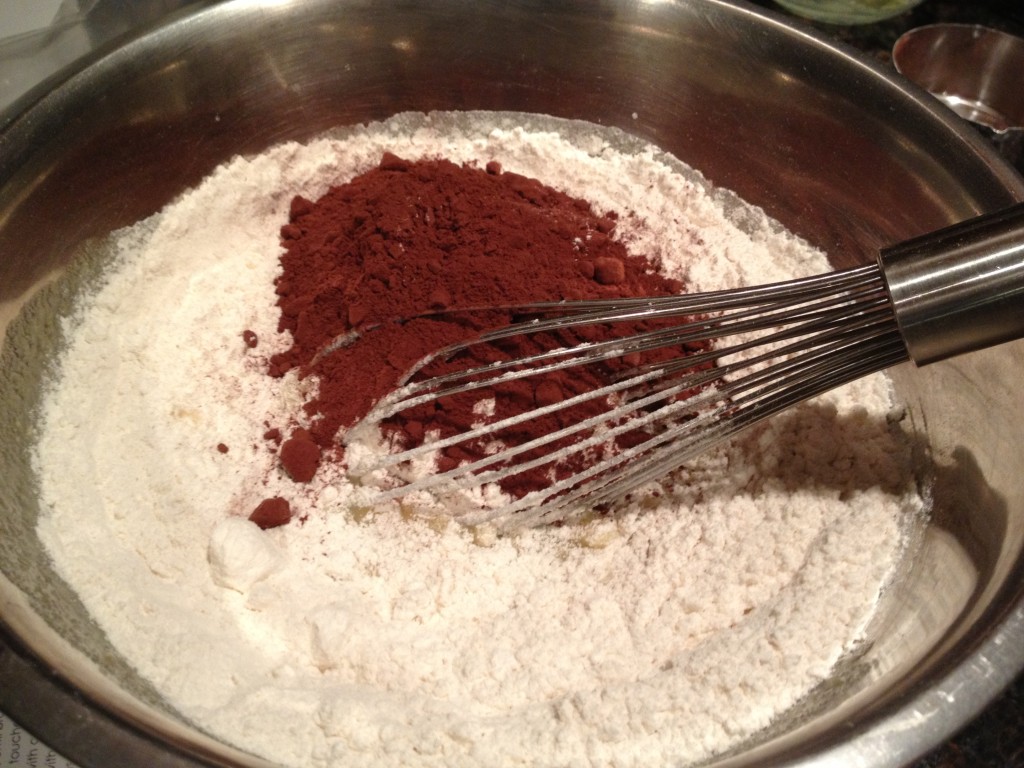 I outfitted my Cuisinart with its shredder attachment and put two zucchini through the shredder (that'll teach 'em to call out to me from the fridge that way). I added the zucchini to the chocolate batter.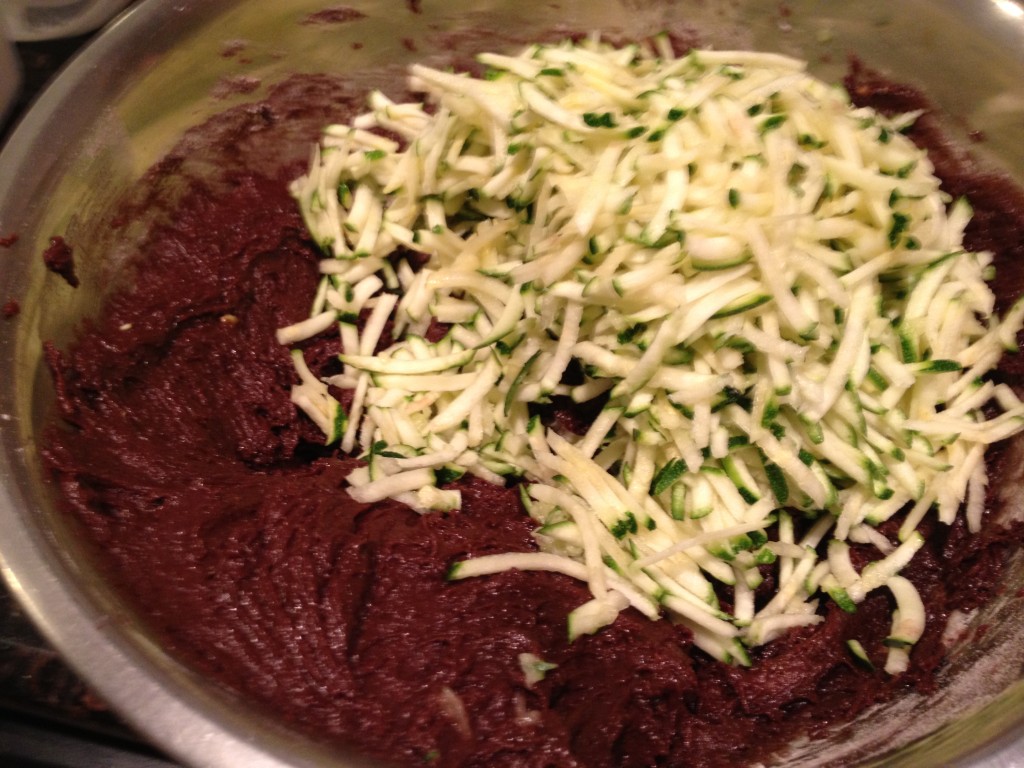 I chopped up some nice bittersweet chocolate (60 to 65 percent is good) into chunks and threw that into the batter too.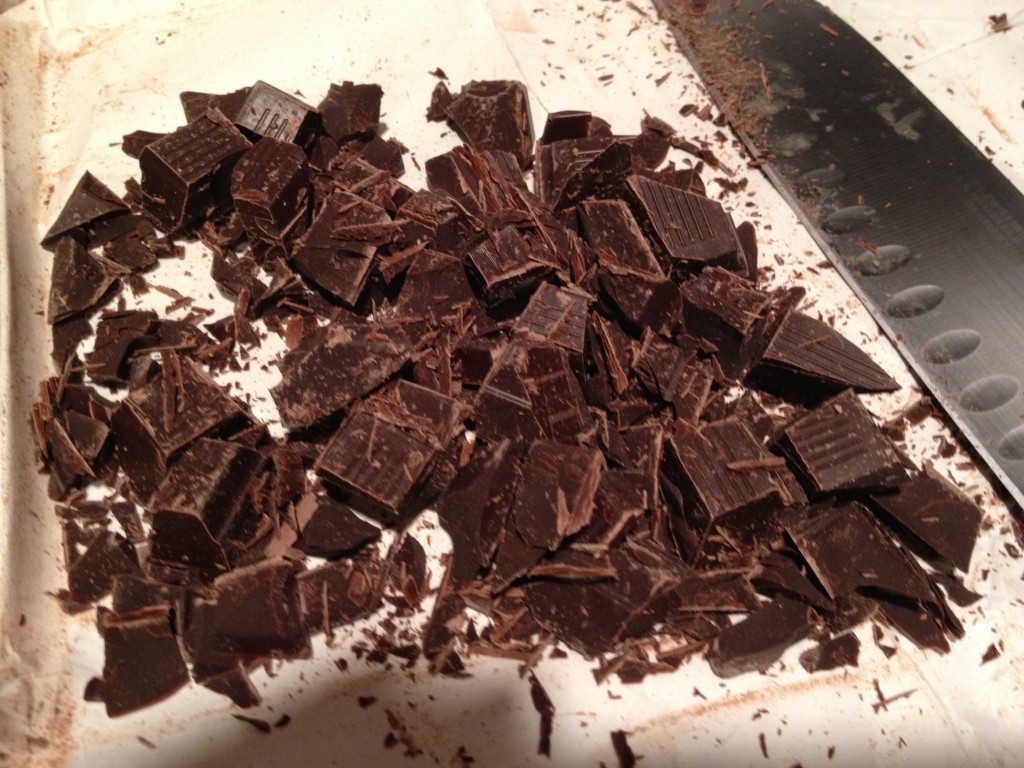 It's an odd thing to see zucchini staring out at you from your mixing bowl full of chocolate. But you gotta deal.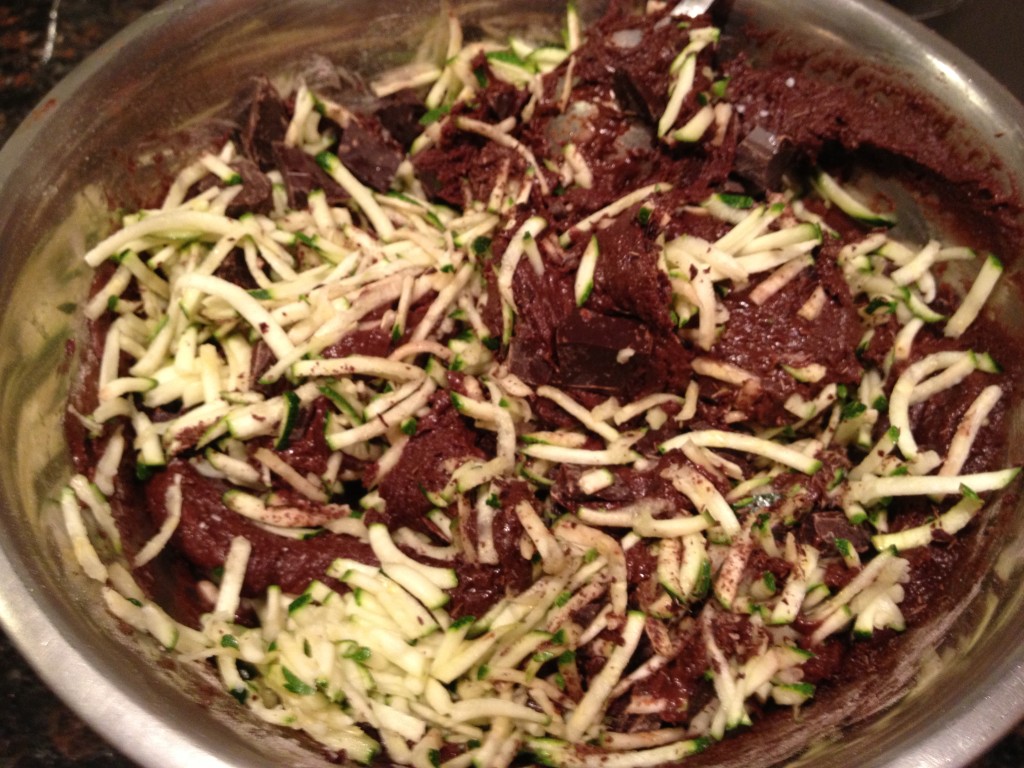 With a few more mixing strokes, the zucchini hides more efficiently in the chocolate so it's not as upsetting.
And baked, it looks almost like any other brownie; the shreds of zucchini look more beige than anything by now. (See photo, top… as if you missed it the first time! You know you want to look again!)
CurvyMama's Zucchini Avocado Almost-Really-Good-For-You Brownies
2013-11-18 20:32:51
Ingredients
1/4 c. applesauce
1/4 cup canola oil
1 1/2 cups white sugar
1 large egg
2 tsp. vanilla extract
Half of one large, ripe Haas avocado
2 cups all-purpose flour
1/2 c. good dark Dutch cocoa
1/2 tsp. baking soda
1 tsp. Kosher salt
2 cups shredded zucchini
3-4 ounces good bittersweet or semisweet chocolate, chopped into chunks
Instructions
Preheat the oven to 350.
Grease and flour a 9 x 9 inch baking pan.
In a roomy bowl, combine the applesauce, canola oil, sugar, egg, and vanilla.
In a small bowl, mash up the half an avocado and add it to the applesauce mixture. Whisk together to help break up the remaining avocado lumps.
In another bowl, combine the flour, cocoa, baking soda and salt. Stir it into the applesauce mixture.
Attach the shredder blade to your food processor. Buzz enough zucchini to yield about 2 cups.
Roughly chop the chocolate.
Add the shredded zucchini and chopped chocolate to the batter.
Turn the batter into the baking pan.
Bake at 350 for 35-40 minutes. Check for doneness: they're done with the surface of the brownies springs back when lightly touched. (I also checked the inside with a toothpick.)
Let cool a while in the pan on a cooling rack.
CurvyMama Pies http://curvymamapies.com/