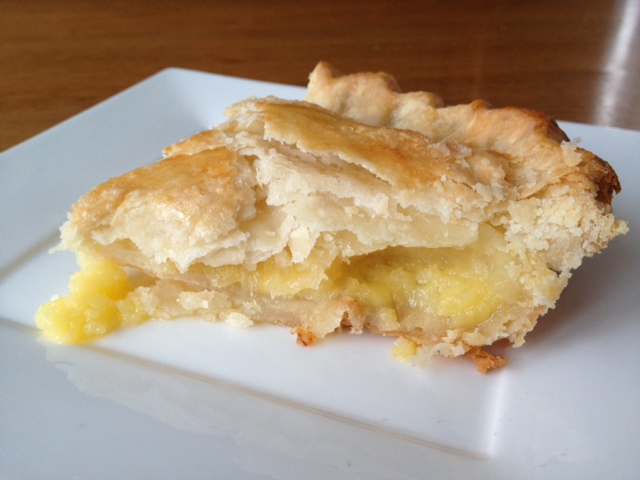 I had a stroke of supreme good fortune the other day: I got to bake pies with former Washington Post food critic Phyllis Richman. She was gracious enough to show me the secret to her favorite lemon pie. It was such a lovely afternoon! We sipped green tea and told stories while we rolled pie dough and mixed filling. Thanks to Phyllis, I learned how to make a lemon pie that you will totally love.
The way I made a pie connection with this beloved and revered food writer was nothing short of a bizarre coincidence: We were on opposite pages of the same magazine.
Last spring, I was thrilled that Bethesda Magazine did a little feature on CurvyMama Pies. It ran with a photo of my cherry lattice-top pie. On the facing page was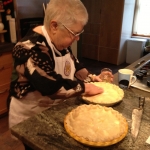 a Q-and-A with Phyllis, who had retired in 2000 from a 23-year stint at the Post and was reflecting about the Washington food scene. (Even at 75, though, she's not done with bylines. Check out her recent pieces in the Post here and here.)
Not long after that issue of Bethesda Magazine appeared, I got a pie order through my website from none other than–you guessed it–Phyllis Richman. When she flipped through the magazine, she had noticed that sexy cherry pie photo. Turns out that she harbors a deep and intense love for pie.
I called her up to chat about the order, and she peppered me with friendly questions about my pie. What sort of crust did I make? Did I use butter (yes)? Lard (yes)? Crisco (no)? What made my apple pie special enough to warrant the name "Best Apple Pie Ever"? What could I say about my coconut cream, which was a particular weak spot of hers? We chatted happily about pie for a good long time.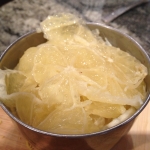 I knew I had found a pie sister when Phyllis persisted in cyberspace, too. By email, she talked about some of her very favorite pies, including Shaker Lemon pie, which is typically made by slicing whole lemons–peel and all–paper thin and baking them into a custardy filling. I'd tried making Shaker Lemon, and had come up with a chewy, overly bitter mess. I told her I'd love to learn a better version from her, and was amazed and touched when she offered to teach me.
After months of setting dates and having to reschedule for conflicts on her calendar or mine, we finally had a plan. I threw some lemons and butter into a canvas tote bag, along with my rolling pin and four disks of my own butter-and-lard pie dough, and headed over to Phyllis' charming and funky cottage.
The first thing I did was give her a CurvyMama apron, since she was generous enough to spend a whole afternoon being my lemon pie teacher. She looked great in it!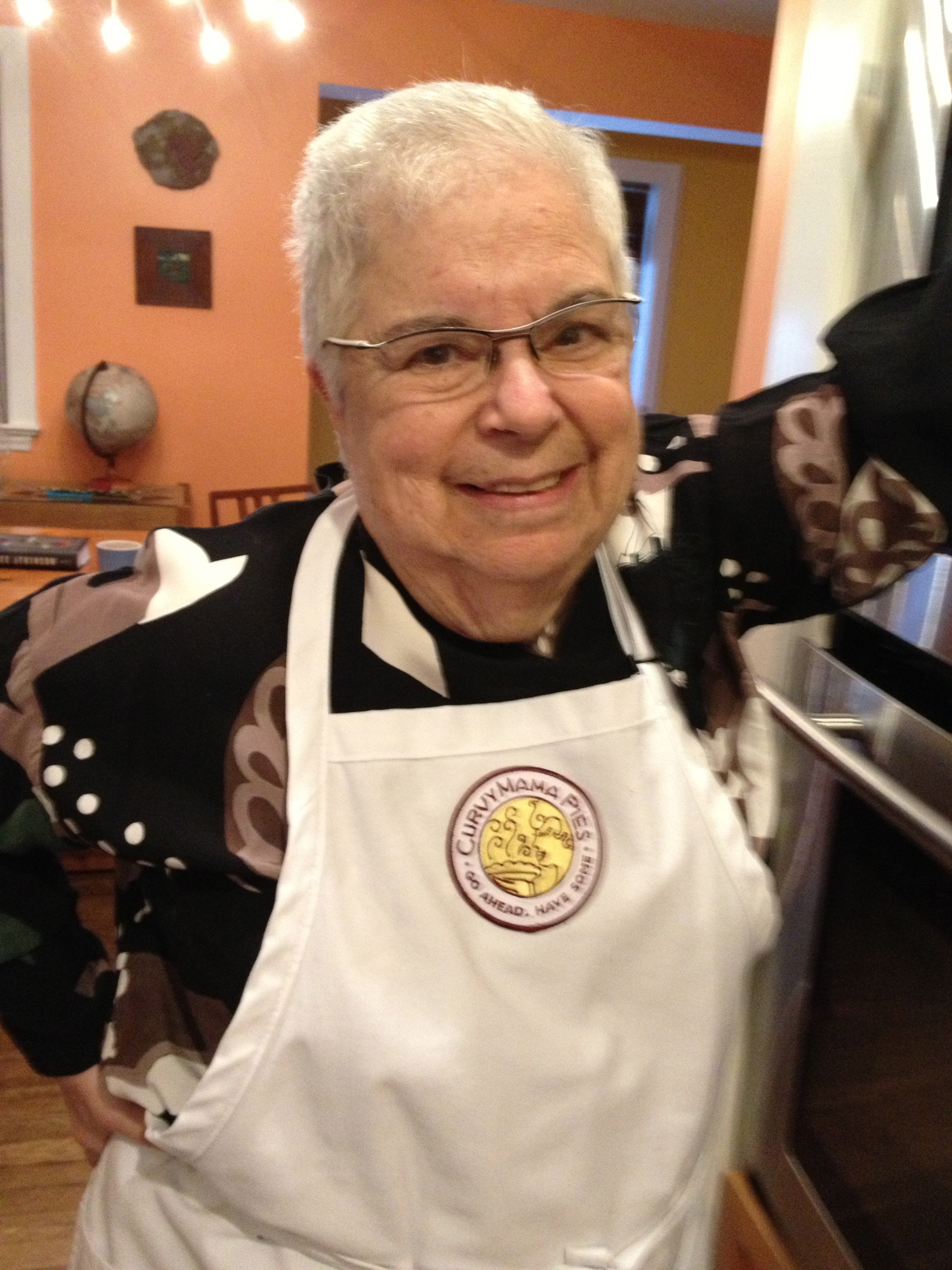 Phyllis made us two cups of green tea, and we got to work on the pie filling. It turned out that the pie we were making wasn't a Shaker Lemon; it was one that had conquered her heart as a teenager, when it won $7,500 at the 1953 Pillsbury bake-off. It's called Two-Crust Slice O' Lemon Pie, and it differs from Shaker Lemon in an important way: it uses only a little bit of zest, and none of the bitter white pith.
We started by zesting just enough for the two pies we were making. Then we peeled away the rest of the rind and the pith, leaving whole, naked, juicy fruit.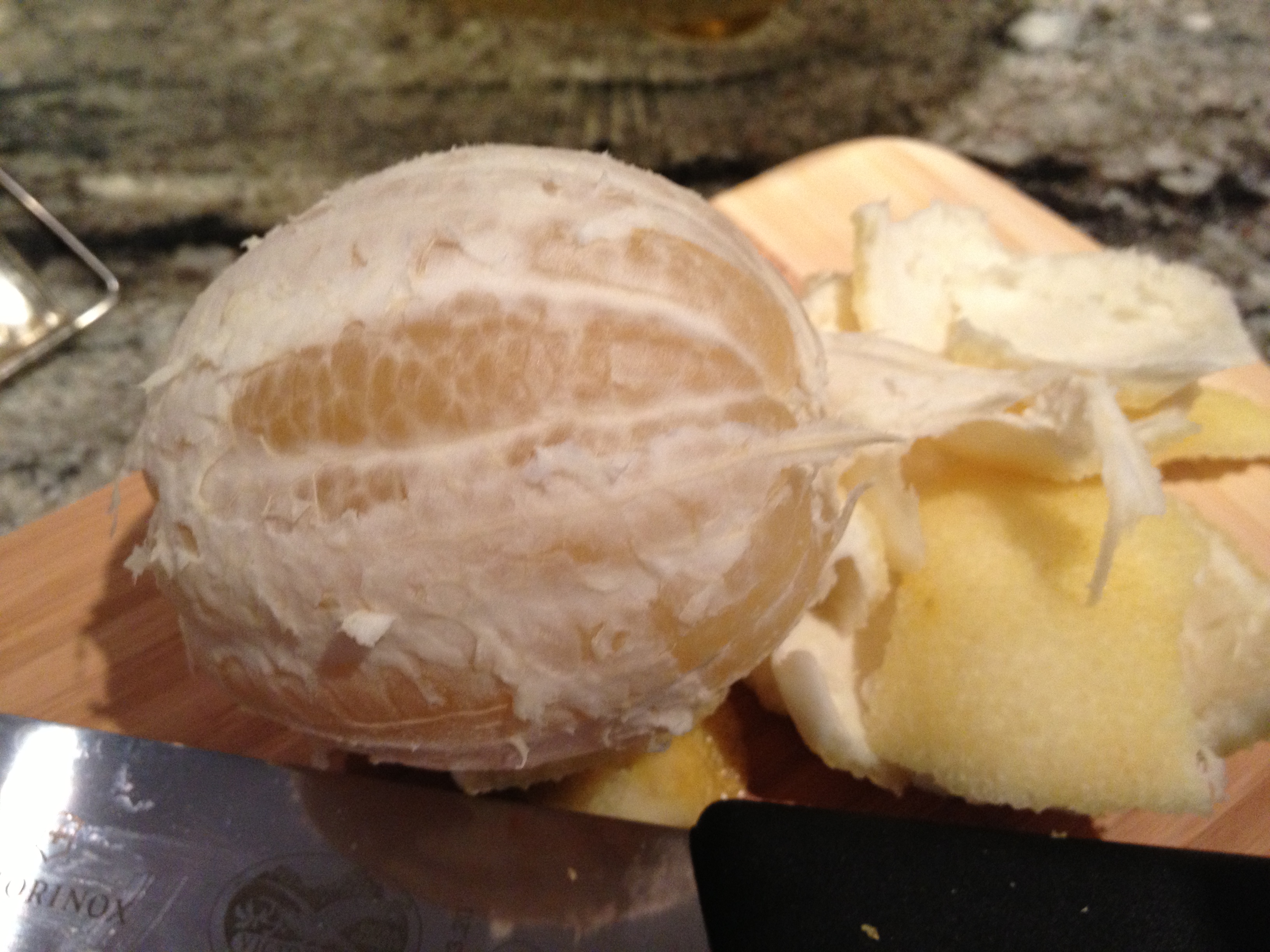 In a separate bowl, we combined sugar, flour and salt, gave them a stir, and plopped our softened butter on top.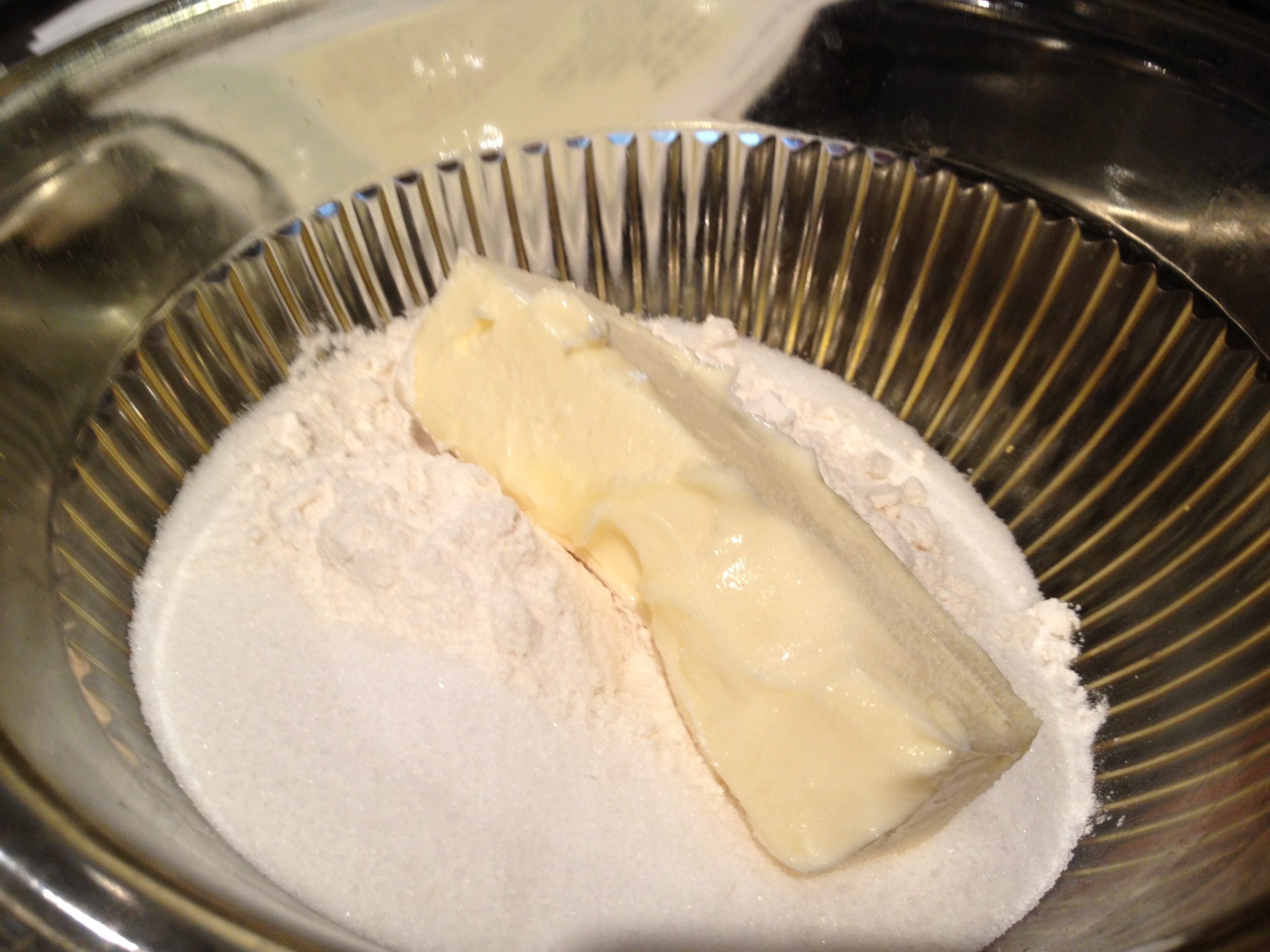 Then we mixed until it was moist and sandy-looking.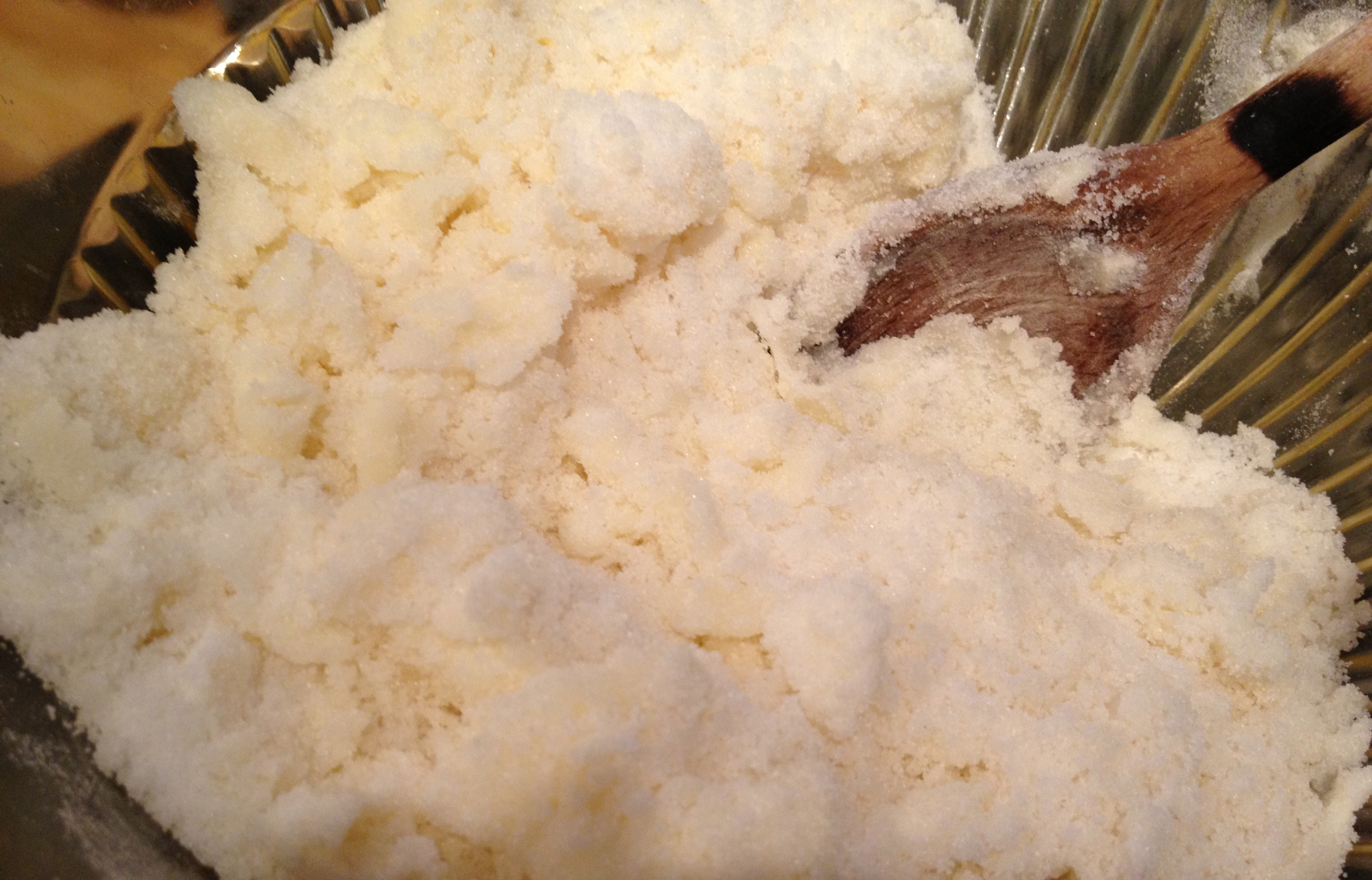 In another bowl, we whisked our eggs together well, and then added them to the flour-sugar-butter mix.
We pushed our whole, peeled lemons through the slicer attachment of a Cuisinart, which produced paper-thin slices instantly.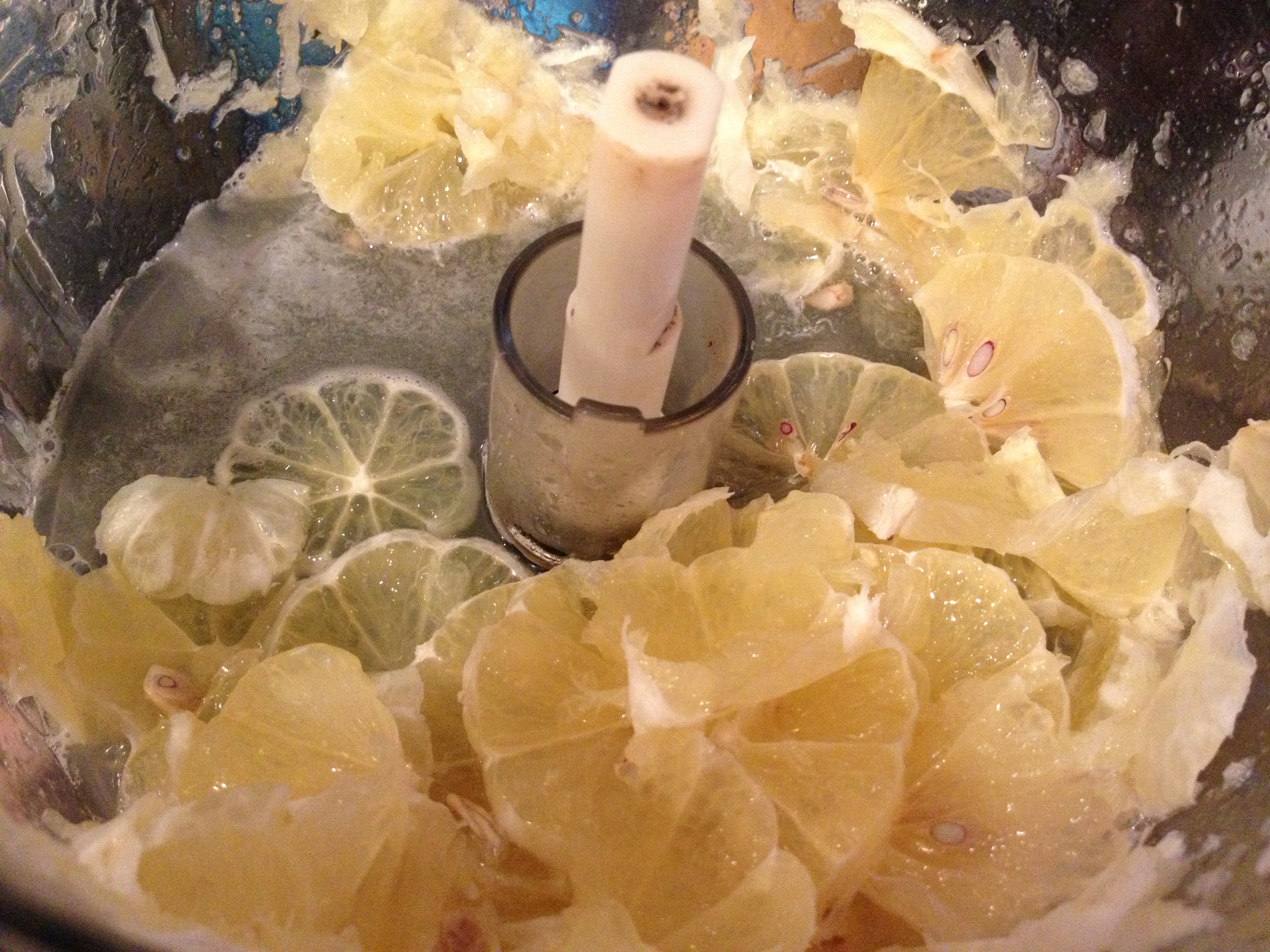 After carefully picking out all the seeds, we added the lemon slices and their juices, along with the zest, to the sugar-flour-butter-egg mixture. We stirred in the water. And voila, the filling was done! Easy!
We rolled out bottom and top crusts, and put the pies together, chilling them well while Phyllis's oven preheated to 400. We made little vents in the top crusts and brushed them with egg white (Phyllis likes to spread her egg white with her fingers!) and sprinkled a little granulated sugar over them, and into the oven they went.
While the pies were baking, we talked about our grown children, our favorite pies, and the warm, earthy paint colors we've chosen for our homes. I coaxed her into telling me a few stories of her days at the Post, working her way up as a food writer in the 1970s.
She regaled me with tales of hanging out with Mexican food guru Diana Kennedy, and following Gloria Steinem–much to the feminist leader's annoyance–to a spa for a story. She told me how she slipped into and out of some of the great restaurants of Washington unrecognized. And what kinds of connections did Phyllis have? Well, when she needed consoling after a divorce, she cried on Julia Child's shoulder.
Phyllis's oven timer pinged, and we took out our golden, fragrant pies. It was time for me to pack up, so I gave this wonderful lady a hug and collected my hot pie, cheered by her suggestions of what we'd bake next time. Next time! Yay!!!
The pies cooled overnight on her countertop and on mine, and the next day we compared notes. Phyllis thought the pie was too sweet; she said she'd cut back next time on the sugar. For my part, I thought they were perfect: a nice balance of tartness and sweetness. Left to really "snug up" overnight, the pie filling had a lovely custardy softness, with no traces of bitterness or ooziness.
I look forward to continuing to debate the perfect lemon pie with Phyllis, and hopefully, baking a series of other pies as well. What a great afternoon, with a truly great lady.
The recipe below is adapted slightly from the version that appeared on cooks.com. We used three lemons for the two pies, while the original recipe calls for one lemon per pie.
Phyllis Richman's Favorite Lemon Pie
2014-01-27 17:34:00
Ingredients
Pie dough for two-crust pie (preferably butter and lard dough)
1 1/4 c. sugar
2 Tbsp. flour
1/8 tsp. salt
1/4 c. unsweetened butter, softened
3 eggs, well beaten
1 tsp. lemon zest
1 1/2 lemons, sliced paper thin
1/2 c. water
Instructions
Zest just enough of the lemon rind to get the 1 teaspoonful that you need.
Remove the rest of the rind and the white pith from the lemon, and slice it very thin (the slicer attachment of a Cuisinart works great). You should have about 1/3 cup of slices.
In another bowl, combine the sugar, flour and salt. Blend in the softened butter and mix thoroughly.
Crack the eggs, reserving 1 teaspoon of the white to use on top of the pie before it goes in the oven. Set that aside. Beat the eggs well. Add them to the flour-sugar mixture.
Add the water, zest, and lemon slices, along with their juices, to the flour-sugar mixture. Blend well.
Preheat the oven to 400.
Roll out the bottom crust and line a 9-inch pie pan with it. Pour the filling into the unbaked pie shell. Top with the top crust, rolling and crimping the edges. Chill well, about 10-15 minutes in the freezer or 20-30 minutes in the refrigerator. Take the pie out and brush it with the egg white and sprinkle it with sugar.
Bake at 400 for 30-35 minutes.
Notes
Use 1 lemon per pie if your lemons are large; 1 1/2 if they are smaller.
Some versions of this pie recipe combine sugar and cinnamon for sprinkling on top of the pie before baking. The cooks.com version omits the cinnamon, and so did we.
Adapted from from Cooks.com
CurvyMama Pies http://curvymamapies.com/