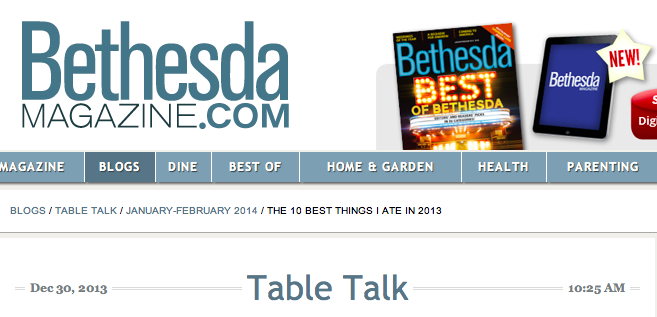 We are so excited! Bethesda Magazine has just come out with its favorite foods of the year, and CurvyMama Pies is on it!
That's right: food writer Carole Sugarman posted a list of the 10 yummiest things she ate all year, and our pies were one of them! She gave particular love to our cherry, French Silk and banana cream.
Our pies are occupying some pretty rarified air on that list; they're right there next to creations by chefs Yannick Cam, Robert Wiedmaier and Bryan Voltaggio. Whoa! We are so flattered!
You might remember that Carole paid us an immense compliment, too, when she dubbed us a "Food Find" in the magazine last spring. She included a very sexy photo of our cherry pie with that article, too (big hat tip to my beloved Charlie Borst, who shot that photo).
Well, well, well. The year is getting off to quite a start. With this kind of buzz going around, who knows how many people will answer the call to learn the art of pie themselves? That would be wonderful–I'll be offering more workshops this year!
Interested? Get on our workshop mailing list here.