Since CurvyMama is always on the lookout for good pie, and good pie adventures, she made the most of a recent business trip to New Orleans and tracked down a couple of pie places to put on your list. We've certainly added them to ours.
I was facing pretty strict limitations on my time in the Big Easy, since I was going there for a conference for my Regular Job. But I was determined to use every scrap of down time to find good pie, and a little advance Googling helped point me in the right direction. This time I'll tell you about my first adventure; my next post will be about my second one.
My feet hadn't been on the ground in New Orleans for more than an hour before I headed out on my first pie trek. It was the evening before the conference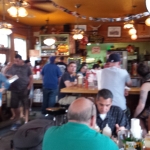 started. Fresh from the airport, I dumped my stuff in my room and hightailed it back out the front door of the hotel. At the head of the cab line was a big black SUV. I jumped in and told the driver that I wanted to go to a place called The Joint in the Bywater neighborhood. It was beloved among locals not just for pie, but for barbecue. How could I lose?
When the driver, Rene, heard me say "The Joint," he turned around and stared at me in amazement. "You're kidding," he said. "Really? The Joint? I was
just going there for dinner myself!" The Power of Pie had once again brought me shoulder to shoulder with a great thing. Rene treated me to a lovely drive through the neighborhoods between the hotel and the restaurant, telling stories about each as we went.
The Joint was a complete charmer: rustic and noisy, exactly what you'd want a neighborhood barbecue place to be. As we stood at the cash register to order takeout, we could see one of the guys through the glass of the kitchen door, smoking meats on a big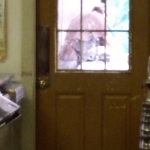 smoker out back. Rene and I cooled our heels on a couple of barstools while our dinners were packed up (three-meat barbecue combo and a slice of pecan pie for him, brisket sandwich and three slices of pie for me. It was my solemn duty to sample all three on the menu!). Then it was back in the SUV.
This time, though, four people who were just finishing dinner asked if they could catch a ride to the French Quarter, so they squeezed in too. Rene told us all stories of the city as we winded our way to the Quarter. Then he drove me back to the hotel, and refused to take my money for the return trip. With a big smile and wave, he was off. What a big-hearted welcome to New Orleans!
The barbecue brisket was totally yummy; tender and moist and deeply smoky. I barely had room for pie, but of course CurvyMama found a way. All three were lovely; key lime was heavy, smooth and creamy, just the way it should be, with all the tartness that is missing from so many versions of this beloved pie. The filling rested comfortably on a thick and slightly crumbly, not-too-sweet graham cracker crust. Perfect!
The Joint's pecan pie was distinctive; it was a two-crust pie. Typically, pecan pies have only a bottom crust, which holds the slightly gooey, nut-heavy filling. This one had a top pastry crust as well, with half of the filling underneath it and half on top. The filling was rich and heavy, very sweet but balanced well with a molassesy flavor. The crusts, which combine shortening and butter, were tender and flaky.
Their peanut butter pie was a light, silky, airy counterweight to the other two. It wasn't at all like many of the peanut butter pies I've had (including my own), which have much denser peanut butter filling. So I emailed the owners, Pete and Jenny Breen, to ask them to share a pie secret or two.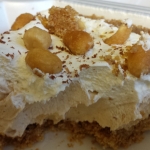 Jenny wrote back; as of one two pie bakers for the restaurant, she was the keeper of the pie lore. All the pie recipes originated with a family friend known as Great Aunt Fama, "a true New Orleans character from what I hear," she said. Jenny and the crew have made small adjustments to the recipes over the years, but those yummy treats began with Aunt Fama's recipes.
She and co-baker Erica Robinet use local farm eggs in the key lime pie "to highlight the sunniness of this popular pie," Jenny wrote. And they make that airy, light peanut-butter pie filling by adding whipped cream to the mix of peanut butter, powdered sugar, and cream cheese. Jenny credits a local treat for some of the pie's creaminess: Creole Cream Cheese, a lighter and sweeter version made by a local dairy, Mauthe's.
However they're doing it, they're certainly doing something right. I loved the barbecue and the pies so much that I dragged a couple of colleagues over there two nights later and talked them into having pie after they polished off massive plates of ribs and mac-n-cheese. And they were happy they did, too.
Thank you Pete, Jenny and Erica!