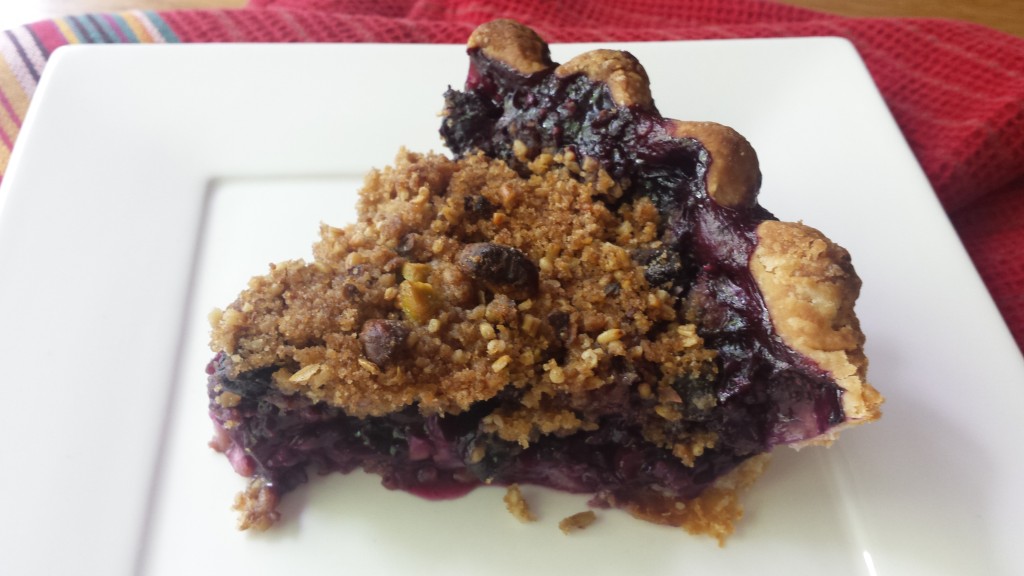 Pie can be the start of many beautiful things. Should you have any doubt about this, my posts here about all sorts of wonderful pie connections should clear that right up for you. From being taken in by the pro's at Bubby's in New York as an aspiring pie maker to flying to Iowa to judge pie at the state fair and bake with new pie friends at American Gothic, I've been amazed at how pie has the power to connect people.
The latest chapter in my power-of-pie adventures has been baking with Phyllis Richman. Last winter, I told you about how this retired Washington Post food critic and I connected when she placed a pie order on my website. We began chatting about pie via email, and one January afternoon she taught me how to make her favorite lemon pie. We've kept up the pie chat since then, and decided we'd have to have ourselves another piemaking get-together. So that's how I spent my Saturday morning this weekend.
In the week leading up to our date, Phyllis and I mulled over what to make. We couldn't ignore the season: what summer fruit would call to us the loudest? We considered peach, and even seriously weighed making a coconut cake that's a legend in Phyllis' family. But she had this blueberry-corn crisp recipe burning in her mind, and that idea totally intrigued me. So that's what we settled on.
I had never, for one second, considered combining corn with blueberries, even though "corn" and "blueberries" simply scream "summer." I confess to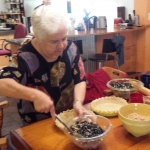 being one of those people who doesn't like to mix sweet and savory (with a few exceptions). So it took me a few seconds to get over the initial reluctance hump. But then I was sold. Ooooh! Cool idea!
Phyllis had Mark Bittman's recipe for blueberry and corn crisp. But she insisted she wanted some kind of confection that involved my piecrust (so flattered and happy that she loves it!). So we decided to morph Bittman's crisp recipe into a single-crust pie recipe with a crumb crust. Easy enough.
And that turned out to be true. Well, mostly. We did run into a couple of little hitches, but nothing fatal. In fact, one problem we hit early on led us to an inspired and delicious solution. I'll get to those details in a second.
But first a little context. Lots of bakers, it seems, have been onto the blueberry-corn thing for quite some time. (Blueberry corn muffins is one thing; that doesn't surprise me. But blueberry corn pies and crisps, somehow, did. Go figure.)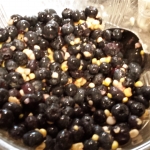 Some confine the corn presence just to the crust, by adding 1/4 cup or 1/2 cup of cornmeal to the dough. Bon Appétit's recipe is an example of this. They go for the the less-is-more approach, in a version that's topped with lemon cream. Another New York Times recipe, inspired by a bakery in Yonkers, adds cornmeal to the crust but doesn't put corn in the pie.
Others go for the full-on blueberry/corn experience, with kernels in the pie. A recipe from the Sift and Whisk blog, and another from Kate Wheeler at Savour Fare, go this route.
So Phyllis and I were treading on established turf as we began our baking adventure. Since we were making one pie for her and one for me, we doubled the ingredients in Bittman's crisp recipe, since it was sized for an 8 or 9 inch pan.
The first hitch we ran into was that Phyllis' husband couldn't find pecans at the store when he did the shopping for us. Bittman's recipe called for them in the crisp topping. So we used pistachios, and that proved to be a lovely substitution.
We got our crumble topping ready, throwing all the ingredients–steel-cut oats, flour, butter, brown sugar, salt, cinnamon and pistachios–into the food processor.
A quick few buzzes and our topping was nearly ready. I wanted to make sure the butter coated the dry ingredients enough that I wouldn't be left with dry, floury little piles of topping here and there. So very quickly, I used my fingers to break up the butter a bit more and rub it into the dry ingredients. Then the topping went into the refrigerator to chill.
Next was getting our filling together. We mixed our blueberries with the corn, and added the granulated sugar, salt, lemon juice and cornstarch. (This proved to be the other hitch; but I'll get back to that in a minute.)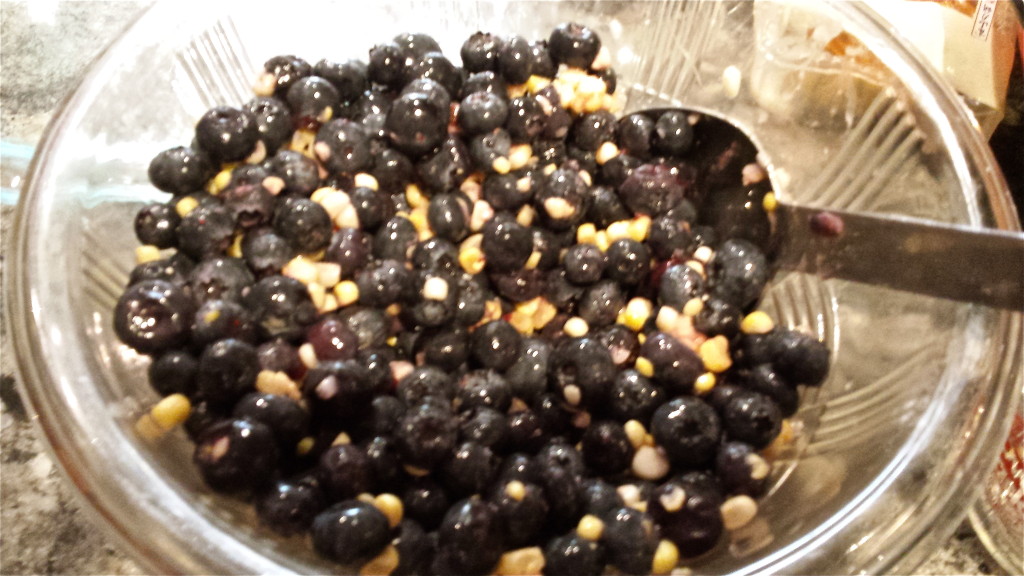 We rolled out our dough disks and eased them into 9-inch pans. We finished the edges and put them in the freezer to firm up while the oven preheated to 425.
Then it was time for assembly, which is a real snap. Whip the pie crusts out of the freezer, spoon in the blueberry-corn filling, and top with the pistachio-oat-crumble mixture.
When we filled the pies, though, I noticed the puddles of juice that had formed in the bottom of the bowl.
Normally I don't mix the fruit with sugar and the other filling ingredients until I'm ready to pop the pie into the oven, since allowing sugar and fruit to cozy up for a while means that the sugar will draw the moisture out of the fruit. Then you risk getting a pool of liquid at the bottom of your pie, and a soggy bottom crust. That's what had happened here, since Phyllis and I were chatting away and sort of forgetting that the berries and corn were sitting there macerating. Oops. Next time, I'd wait to mix the filling ingredients together until right before I'm ready to assemble the pie. (That's noted in the recipe, below.)
We forged ahead though, hoping the juices would be taken up into a nice thick filling, thanks to the cornstarch. We popped the pies into a 425 oven. They baked for 15 minutes, then we turned the oven down to 375 and gave them another 40-45 minutes.
We had to put an aluminum-foil shield around the edges for the last 15 minutes or so to keep them from getting too brown, but that was mostly because our dough disks were a teensy bit small for the pie tins, so the crimped edges were a little on the thin side.
The first email I saw this morning was from Phyllis, and it was succinct: "Ready to deconstruct? Call me."
We shared our pie observations in detail; we both thought the pie was a lovely slice of summer. But Phyllis' report was a bit more glowing than mine. She and her late-afternoon visitors loved the pie. She raved about how the flavor of the corn had softened the flavor of the blueberries; I thought that somehow the blueberry flavor felt a tad bit muffled. I also had been surprised that the corn didn't stand out more in contrast to the blueberries; Phyllis noticed that too, and suggested we use a larger-kernel corn next time. It might have been, though, that we just used less corn in our pies; the other recipes used as much as twice the amount.
She adored the texture and flavor of the pistachios in the crumble topping; I enjoyed the pistachios, but was nagged by the feeling that their flavor might be a bit too strong for the filling. We both lamented that the bottom crust had turned out a bit soggy because of the macerated fruit, but that's easy enough to manage differently when we make the pie again (measure out the fruits and the dry ingredients, but don't combine them til you're ready to assemble the pie and put it in the oven).
Here is the recipe we used, adapted from Mark Bittman's. Enjoy your slice of summer, and think of Phyllis and me when you bake it!
Phyllis & Catherine's Blueberry & Corn Pie
2014-08-17 15:11:52
For the topping
2/3 cup brown sugar
5 tablespoons cold butter
1/2 cup steel-cut oats (you can use rolled oats if you'd rather)
1/2 cup all-purpose flour
1/2 cup chopped pistachios
1/2 teaspoon cinnamon
A pinch of salt
For the filling
5 cups blueberries
1 cup fresh corn kernels
Juice of 1/2 lemon
2 tablespoons sugar
2 teaspoons cornstarch
A pinch of salt
Instructions
Put the brown sugar, butter, oats, flour, pistachios, cinnamon, and salt into a food processor. Buzz a few times, or until the butter chunks are about the size of almonds and large peas. Blend very briefly with your fingers, breaking up the butter into smaller pieces and trying to coat the dry ingredients with the fat. Set the bowl in the refrigerator to chill.
Roll out your disk of dough. Ease it into a 9-inch pan. Trim, roll and crimp the edges. Put it into the freezer. Preheat oven to 425.
When the oven is fully up to temperature, mix the blueberries and corn kernels in a big bowl. Add the lemon juice, sugar and cornstarch. (Don't do this step until you are ready to assemble the pie.)
Pour the filling into the frozen piecrust. Spoon the crumble topping over the top. Put pie in freezer for about 10 minutes.
Put the pie on a drip-catcher or on a baking sheet lined with parchment. Bake at 425 for 15 minutes. Turn down the oven heat to 375. Bake for another 40-45 minutes. Let cool on a rack.
Adapted from Mark Bittman
CurvyMama Pies http://curvymamapies.com/