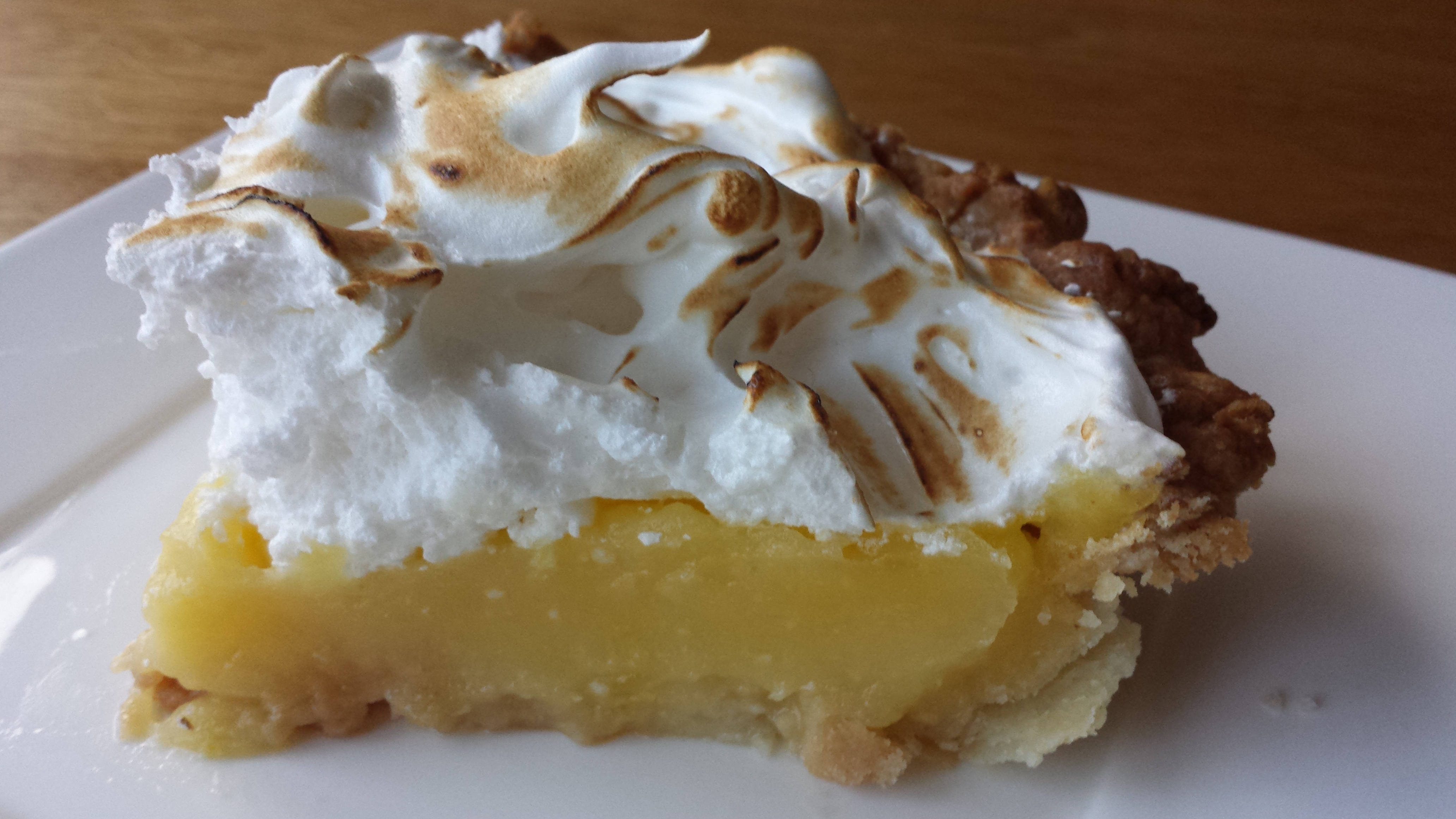 The calendar said it was spring the other day, but here in Washington, D.C., the slushy snow and mitten-worthy temperatures did a pretty good job of convincing us otherwise. That's why it was all the more important to have a bright sunny yellow pie to cheer us up.
This lemon meringue pie won't just deliver the cheer you need to outlast winter. It will be a sassy, creamy contribution to a meal during warm weather, too, when cream pies like coconut and chocolate might seem too heavy.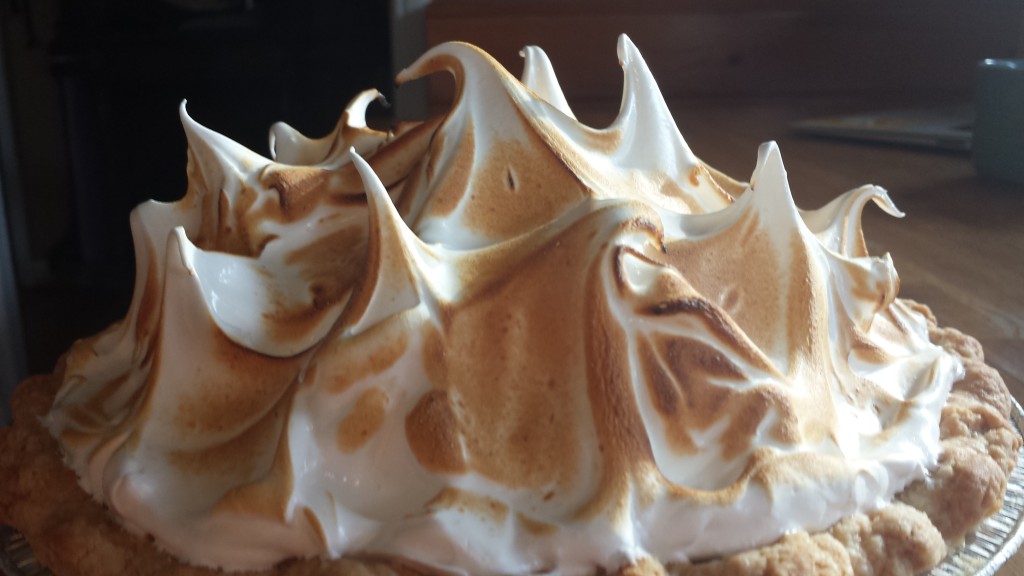 Before singing this little baby's praises any more, though, I should warn you: CurvyMama's lemon meringue is not your traditional lemon meringue pie.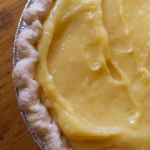 First: the filling. My lemon pie uses a slight variation on lemon curd. The traditional filling blends water, lemon juice, sugar, eggs and cornstarch into a kind of lemon gel. Curd uses lemon juice and sugar, too, of course, but it eliminates the water, steps up the eggs, and adds a bit of butter. So what you get is a heavier, smoother, creamier filling. Curds are typically pretty soft, so I added a little cornstarch here to help the pie stand up to slicing. But it's still softer, creamier, than traditional lemon pie filling.
Then there's the meringue. I tried many lemon pie recipes that used everyday meringue–the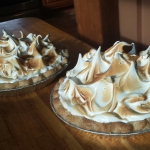 kind that entails whipping egg whites with a little cream of tartar. Pastry people know this as French meringue. I couldn't get completely happy with these recipes, though. I was bothered by a bubbly, slightly crunchy quality to the meringue. I wanted smooth, creamy, glossy, slightly chewy meringue.
The way I found to get it–thanks to my wise and generous friend Jenni Field, who runs PastryChefOnline–is to make Italian meringue. It requires a little bit more fussing–and a candy thermometer–but it's hard to overstate how worthwhile it is. If you just don't wanna go the extra-fussing route, you can substitute everyday (French) meringue.
But just try! Just once! Try the Italian meringue and tell me, with a straight face, that it doesn't blow you away with its sexy, glossy, marshmallowy power. Just look at it!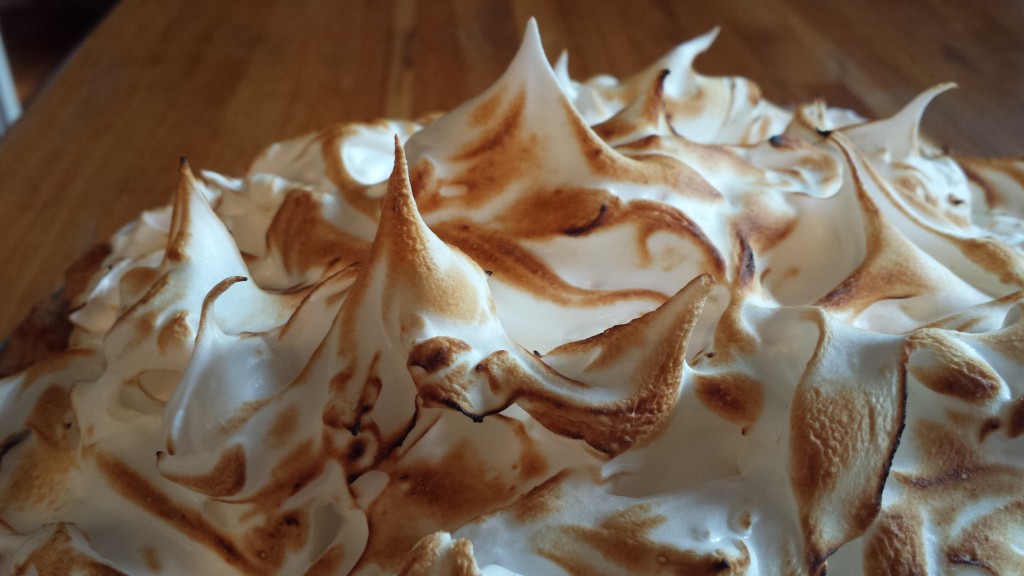 Gushing aside, let's get to the pie making instructions and photos. That's what you want anyway! Here are some photos and a little bare-bones narration. At the bottom is the recipe card with the real detailed instructions.
First, bake your pie shell and let it cool.
The filling is easy: whisk the eggs and egg yolks together in a saucepan. Whisk in the lemon juice, zest, sugar, and salt. Add the butter pieces. Cook and whisk until the butter melts, the mixture thickens slightly and it starts to simmer around the edges. Stir in the cornstarch-water mixture. Cook and whisk, paring back the heat to keep things to a simmer, another 30 seconds or so. Pour through a sieve.
Protected with plastic wrap, the curd will wait patiently for you until you are ready to assemble your pie. (in the fridge if that's more than a few hours.) That's when you'll make your meringue.
The meringue requires just a little bit of timing finesse. The trick is to see if you can your egg whites to whip to the medium-peak stage at about the same time that your boiling sugar syrup reaches 244 degrees. Here's the timing that worked for me:
Put your egg whites in a stand mixer with a whisk attachment. In a saucepan, combine the sugar with just enough water to form what Jenni Field aptly described as a "sludgy" texture. Put the cover on the pan, and medium-high heat under it. Swirl occasionally, but don't stir, as the sugar dissolves.
When the sugar-water mixture begins to simmer, start beating your whites on medium-high speed. Take the cover off the sugar-water pan and attach a candy thermometer. Boil the syrup until it reaches 244 degrees.
Slow the whisk on the stand mixer to medium speed. With the whisk going, pour the hot syrup into the egg whites, taking care to avoid spattering by pouring the syrup between the whirring whisk and the side of the bowl.
When all the syrup's poured in, continue beating until the outside surface of the mixing bowl is no longer warm to the touch. (When you first pour the syrup in, the side of the bowl will feel hot.) Go ahead and feel the mixing bowl occasionally, but don't be concerned if this process takes 5-10 minutes or more.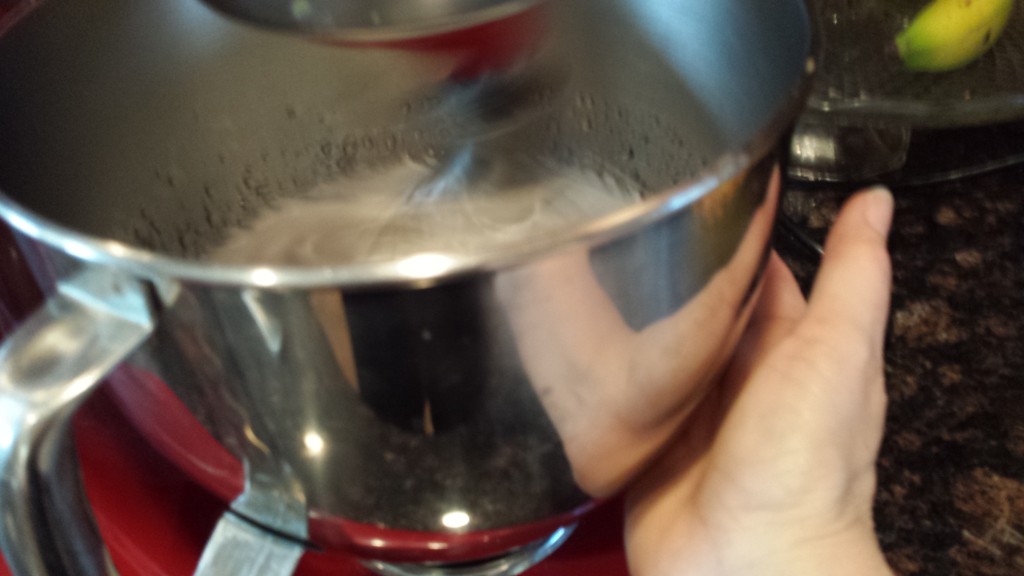 Don't hurry the process; wait til the side of that bowl has cooled off. By that time, your egg whites should have taken on an alluringly glossy, marshmallowy look, and should hold stiff peaks.
A kitchen butane torch is the hands-down best way to get a gorgeous brown-tipped meringue. You can get a small one like mine for $25-$40 online. If you want to remain torchless, however, you can brown meringue in the oven. It'll come out a gentler brown that what you see here, which was a torch job.