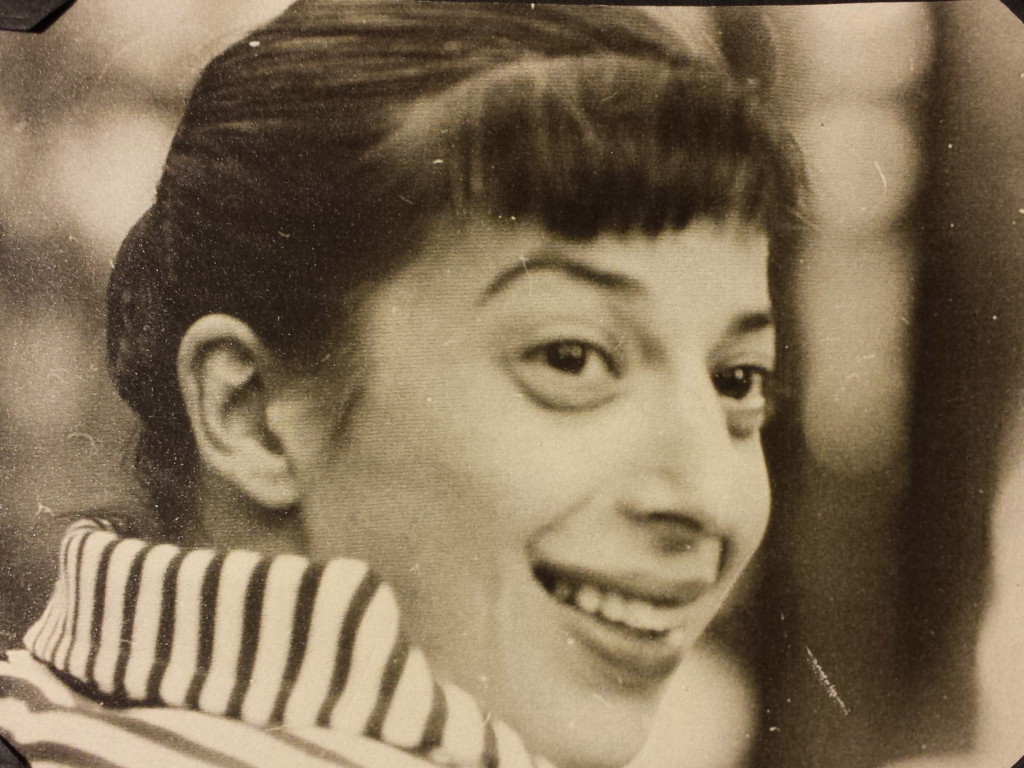 I am baking for my mom tonight.
Since she died two weeks ago, the days have been a surreal blur of plane flights, phone calls, family gatherings, tears, looking at old photos, more tears, murmured condolences, and sentimental storytelling. To manage the grief, I've been filling my hours with triaging the family finances, making arrangements with lawyers and funeral directors. But on this rainy night, I need to stop. Stop everything, and just dive into her memory, into what it felt like to grow up as her daughter.
So I'm baking, because that's how my mom and I spent so many happy hours when I was little. Our family photo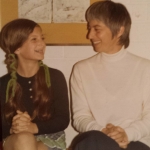 albums have assorted pictures of me and my brother perched on step stools or the flip-top trash can, holding the beaters of the hand mixer, with some kind of batter smeared across our faces. Mom always made sure there was just enough batter left on the beaters for licking.
I'm making mom's black-bottom cupcakes, and I'll send them to my dear friends Don and Donovan, who put me to bed in their guest room, let me sob on their shoulders, fed me, and gave me the keys to their home and their pickup truck, no questions asked, for two months this summer when my mom was sick. Friends like that are two in a million, and that's the kind of friend my mom was, too. At the memorial gathering we held three days after her death, many people told stories of how she'd taken them in when they needed a place to live. Her kindness, her deep interest in others, and her willingness to make room for someone in need rippled through the stories.
She also knew how to have fun and break the rules. Every once in a while she'd let me and my brother stay up way past our bedtimes on a school night to bake chocolate chip cookies with her. When a thunderstorm led other moms to round up their kids and bring them inside one afternoon, my mom gave me a mischievous look and a big grin. She grabbed my hand and we ran outside, barefoot through the squishy grass, screaming as the thunder crackled and the rain soaked our clothes. For her, it was all just too joyful, natural and exciting to resist.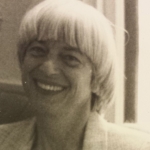 Every birthday there were cakes with candles. Every night there was a home-cooked meal on the table. Under mom's watchful eye, I learned to navigate her lucite box of 3 x 5 recipe cards, and to sauté, bake, and broil. She welcomed each of my awkward adolescent baking projects–Bundt cakes, carrot cakes, cookies, brownies–with good cheer and a hearty appetite. When I went away to camp, she mailed me care packages of homemade cookies, the chocolate chips melty in the summer heat. The care packages followed me to college. When she was older, and Mother's Day flowers seemed repetitive, I started to bake for her. Peanut butter brownies. Caramel brownies. Chocolate-topped almond toffee. "You baked for me all my life, and you taught me how to bake," I wrote in one card. "Now I love baking for you."
So tonight I'll bake for you again, mom. I still can't believe you're gone, and I can't begin to imagine my world without you in it. But I can carry on what you taught me: that few things are more joyful than making and sharing food with those you love. I'm so lucky you loved me, and shared your kitchen with me. I've done the same with my daughters. Somehow, we'll carry on without you. I know you'd want us to fill our kitchens with the smells of your recipes. Baking.
————————————————————————————————————————————-
Mom's black bottom cupcake recipe comes from the cookbook that she hand-wrote for me when I moved from Los Angeles to Washington DC in 1995, taking her two beloved granddaughters 3,000 miles away. The introduction she wrote resonates even more deeply now that she's gone: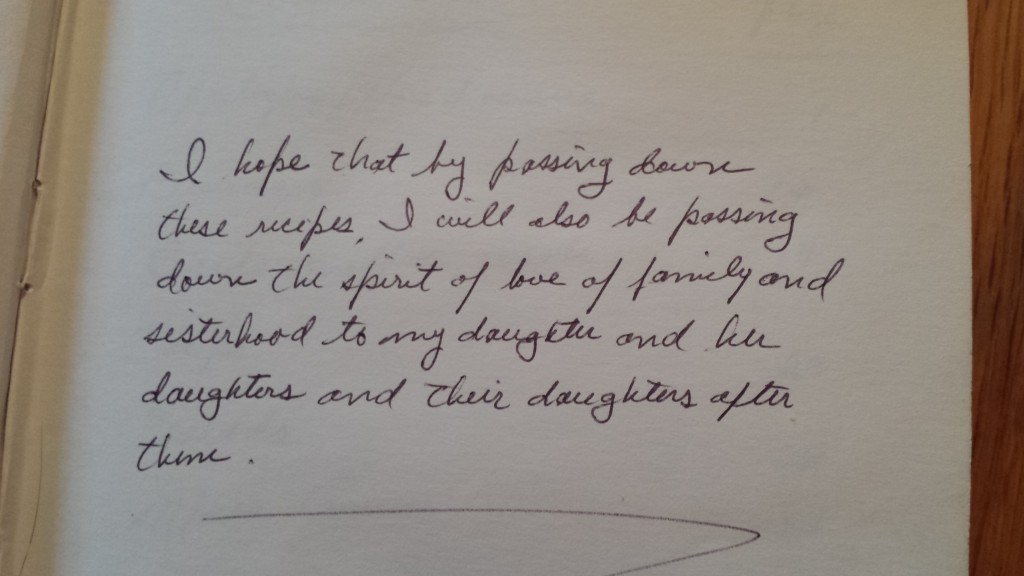 The recipe itself is easy, and she wrote it in a way that makes the three simple parts a snap to understand.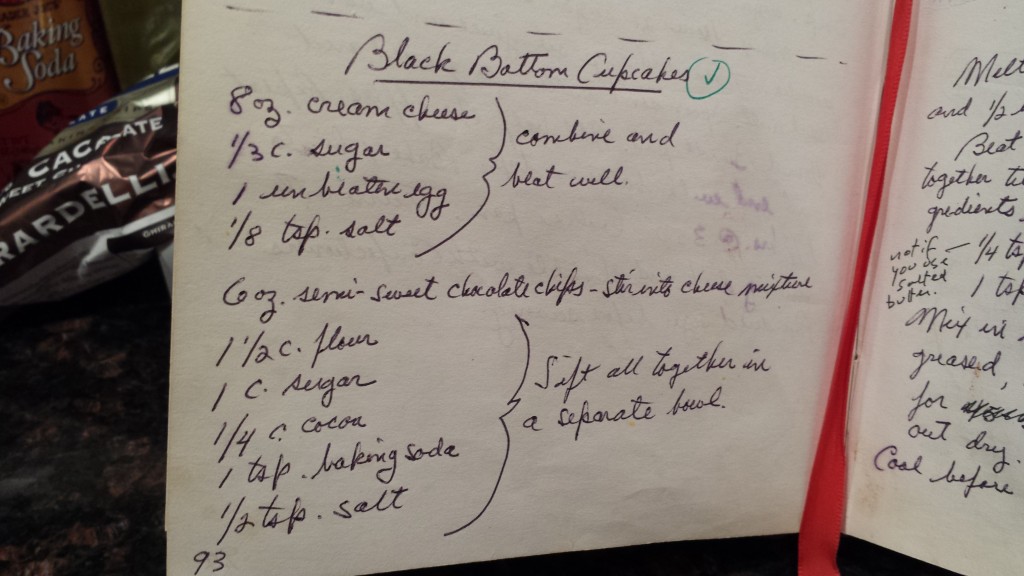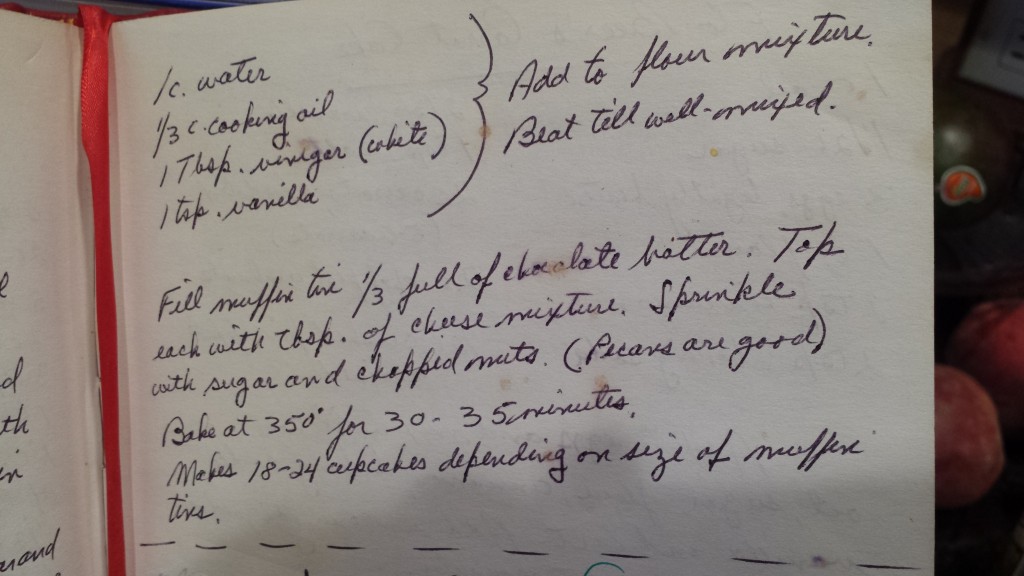 You'll need two bowls. In one, you make the cupcake filling: combine softened cream cheese, sugar, one egg and chocolate chips. In the other, you combine the dry ingredients: flour, sugar, salt, baking soda, cocoa.
Then, to the dry ingredients, you add water, oil, and something surprising: vinegar. Resist the temptation to leave the vinegar out. It adds a nice, edgy quality to the chocolate part of the cupcake.
Spoon the chocolate batter into the greased muffin tins. Drop a generous tablespoon full of the cream cheese-chocolate-chip mixture to the center of each. Bake 28-30 minutes at 350 (a little less than she writes in her recipe… ). Cool completely before removing from muffin tins.
Enjoy with a glass of milk and memories of baking with someone you love.
Even though you're gone, mom, I'll always have your spirit with me when I'm preheating the oven. And I'll save a little batter on the beaters for you.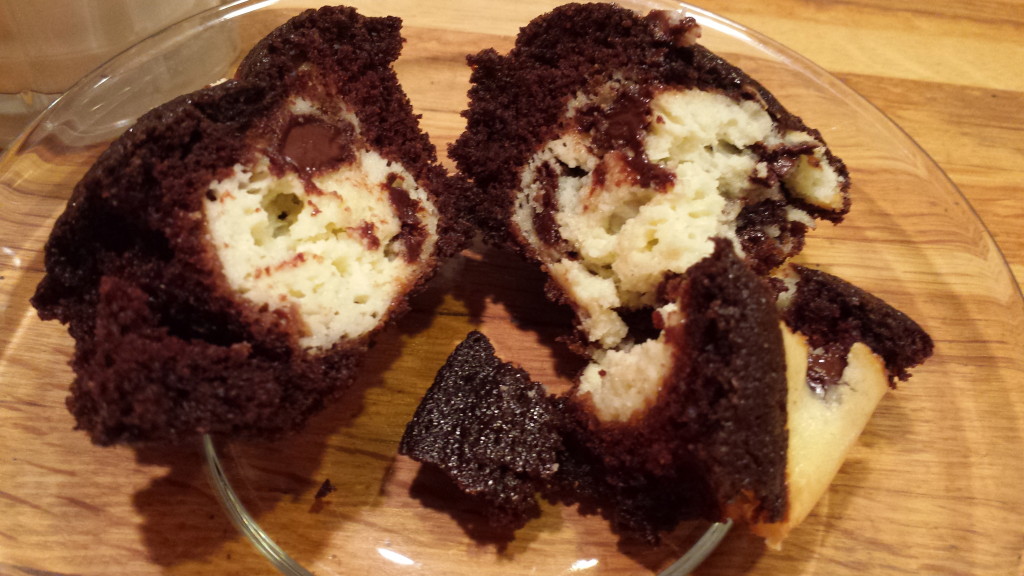 Judy Gewertz's Black Bottom Cupcakes
2015-08-04 17:40:38
Ingredients
8 oz. cream cheese
1/3 c. sugar
1 unbeaten egg
1/8 tsp. salt
6 ounces semisweet chocolate chips
1 1/2 c. flour
1 c. sugar
1/4 c. cocoa
1 tsp. baking soda
1/2 tsp. salt
1 c. water
1/3 c. cooking oil (canola)
1 Tbsp. white vinegar
1 tsp. vanilla
Sugar for sprinkling
Finely chopped nuts (optional)
Instructions
Preheat oven to 350.
In a bowl, combine the cream cheese, 1/3 cup sugar, egg, and 1/8 teaspoon salt. Beat well. Stir in the chocolate chips.
In another bowl, mix together the flour, sugar, cocoa, baking soda and 1/2 teaspoon salt. Add the water, cooking oil, vinegar and vanilla. Stir until well blended.
Grease two muffin tins: one tin that holds a dozen, and another that holds a half-dozen. You'll probably only need three or four in the half-dozen pan.
Pour the chocolate batter into the muffin cups until each is about one-third full. Drop a generous dollop of the cream-cheese-chocolate-chip mixture into the center of each one. Sprinkle a little sugar over each one, and finely chopped nuts, if you like.
Bake 28-30 minutes. Check for doneness with a toothpick; it should come out clean. Don't over bake. Cool completely before removing cupcakes from tins,
CurvyMama Pies https://curvymamapies.com/