From New York City
Loyal readers already know that CurvyMama aims to bring you reports on the best pie-eating experiences from all points of the globe. She and her Pie Posse have already reported from four time zones. Here is our latest installment on the various bits of pie heaven we find. This report is the second from CurvyMama's bestest boyfriend, Don, whose intrepid pie reporting has already brought us mouthwatering narrative from Hawaii. Here we find him in the Big Apple. See what he has to say:
"When Curvy Mama demanded–er, strongly recommended–that I visit her old stomping grounds, Bubby's, one evening during my recent visit to New York, my friends Bill and Skip and I found ourselves on the morning train to TriBeCa. Really, who's gonna argue with a suggestion of pie for breakfast? So after plates of eggs, bacon, home fries and blueberry pancakes, we ordered up a trio of pies: pumpkin, sour cherry and peanut butter-chocolate.
When our sweet Midwestern server arrived with three generous wedges, each accompanied by a zaftig dollop of perfectly whipped cream (in Bill's words: whipped but never bruised), I admit we were a little daunted by the task before us. But then we thought, 'What would Curvy Mama do?' So together we took a deep breath and raised our forks in earnest. [CurvyMama aside: I'm glad I inspire you to Do The Right Thing!]
Before venturing into uncharted pie territory with the sour cherry and peanut butter/chocolate, I decided to go with what I know–pumpkin pie. Or so I thought. Turns out what we all had pegged for the pumpkin turned out to be the peanut butter/chocolate. See, Bubby's disguises their pumpkin with a kind of streusel topping and a drizzle of caramel–additions we found unfortunate and unnecessary.
Especially considering the early hour, I was looking forward to a pumpkin pie in the classic mold–many a fall breakfast for me consisted of a slice of my mom's leftover Thanksgiving pumpkin pie and a cup of coffee. In our eyes–or mouths, as it were–the topping rendered the pie overly sweet and masked the pumpkin flavor. Why Bubby, why!?!
The sour cherry was another story altogether and was unanimously voted Best Of Show; the perfect degree of tartness, especially with the whipped cream for balance, and an impeccable ratio of flaky crust to gooey filling. A flawless pie experience to be sure. [CurvyMama aside: Darling Don, I can see you've been well trained.]
It was the peanut butter/chocolate that gave us our big surprise. We ordered it because none of us had ever had a peanut butter pie, and my oh my. This one we voted Best In Mouth. [CurvyMama aside: Best in Mouth! I love it! This is a phrase that will linger in my memory.] The texture was light and airy, but not too, and the flavor deliciously peanut buttery.
Our only gripe–and we of the CurvyMama Pie Posse take our oath of meticulousness very seriously–[CurvyMama aside: Damn straight!] was that the chocolate counterpoint needed a little sharpening. We would have preferred a thicker layer of ganache beneath the filling, or that the piped peanut butter along the outer crust were chocolate. Don't be raising my chocolate expectations if you're not gonna deliver. But overall, this pie is a winner –a soft embrace for your mouth and satisfying nuttiness for your tongue.
From Bubby's we headed up to The Cloisters, our mission accomplished and our bellies full." [CurvyMama aside: Job well done, and mission accomplished, gentlemen. You do us proud. Check's in the mail.]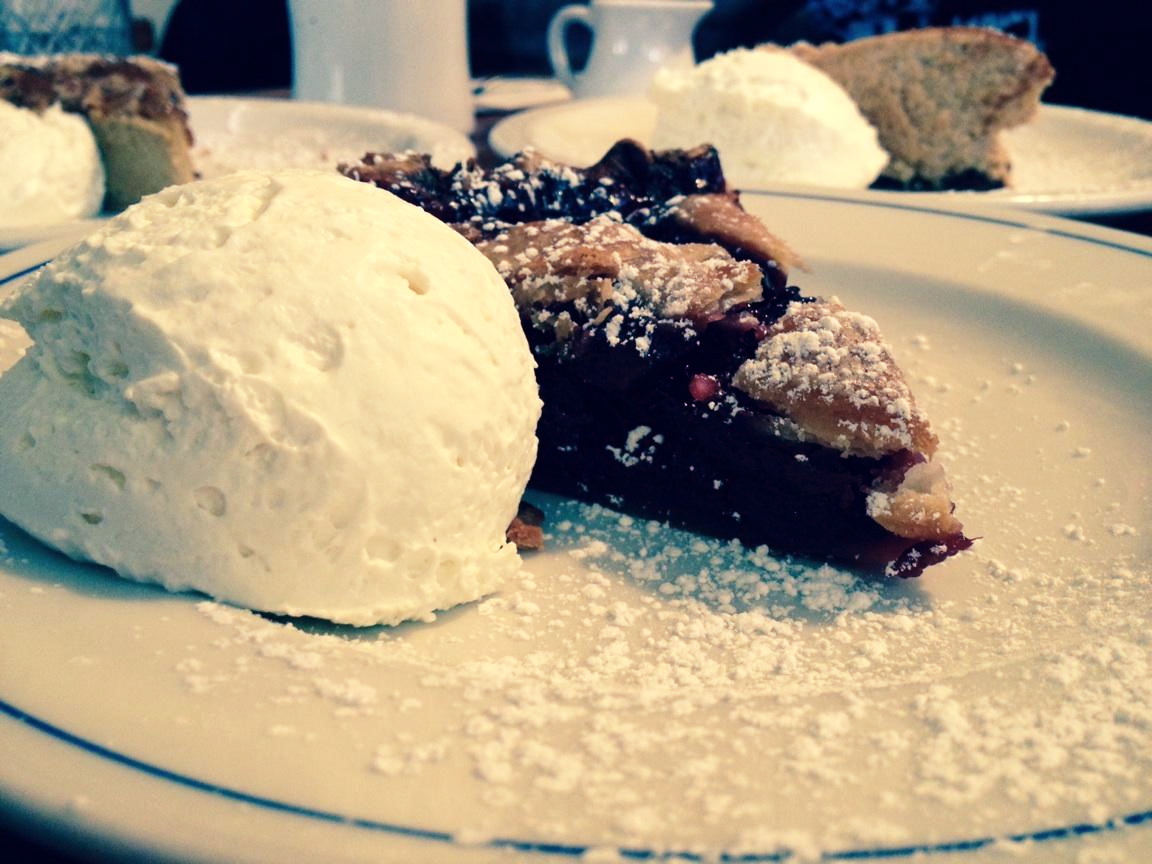 As it turns out, one trip was just not enough for Don. So pie-eyed was he that persuaded his pal Gary to accompany him for another breakfast-and-pie trip. Here is his report from Bubby's Part II:
"My second visit to Bubby's was made without any wheedling, cajoling or nudging. [CurvyMama aside: Oh, come on, CurvyMama never engages in any such thing.] Rather, it was driven by two factors: I had planned on breakfasting with my friend Gary–Bubby's serves grits, and Gary loves grits. That's one. And two, I'd only tried three pies on my first visit; I was dreaming of the others on Bubby's menu. I love pie.
This time my pie selection process included a post-huevos-rancheros visit to the pie case. I'm a visual kinda guy and wanted to base my choice on what looked best to me, with one parameter that my trio again include at least one fruit and one cream pie.
Looking over the cream pies, the banana cream practically screamed 'Eat me, eat me!' You just have to reward that kind of enthusiasm. [CurvyMama aside: There goes your overheated imagination again.] Next, my eye fell upon the less demonstrative pear/cranberry, its fruit flirting with me from beneath a crumbly crust. I was smitten. Gary wanted to try the lemon meringue, but as it's not a favorite of mine, I suggested we make a compromise with Key lime. Gary's Florida roots trembled; he readily agreed.
Well, sort of agreed; in truth he was appalled that I was ordering three pieces of pie after breakfast and said that he'd eat maybe one bite. I know; obviously not a candidate for CurvyMama's Pie Posse, right? But what could I do?
When the slices arrived, both our forks went for the banana cream, which was still begging for our attention. We simultaneously had that thing happen when Deliciousness enters your mouth: you know: your eyes close and you make that soft mmmmmm sound. It had a cookie crust–not graham cracker–I'm gonna say it was maybe vanilla wafer.
Personally I prefer a pastry crust supporting my banana cream; I like the crispy with the creamy. But I suppose there is that sogginess potential inherent in a pastry crust/cream pie combination, so I get it. What we both absolutely loved was the ratio of ripe banana to thick yummy cream to light-but-not-too-light whipped cream. I believe Gary's quote was 'Perfection on a plate.'
Our least favorite was the Key lime. It had a wonderful graham cracker crust, and equally wonderful filling consistency, but it lacked that lip-smacking tart/tangy limeyness that is, for me, the key (hilarious pun intended).
The pear/cranberry was a poem. [CurvyMama aside: If you're laying on the metaphors in hopes that I'll send you a bigger check, forget it.] Everything I wrote about the sour cherry applies to this pie too, so just re-read that bit.
I think perhaps the greatest compliment to Bubby's pies was that 'One-Bite-Gary' matched me forkful for forkful as the slices slowly vanished. He promised to return to Bubby's, and I'm certain that when he does, it will be for something more than grits.
Mmmmmmmm, pie."