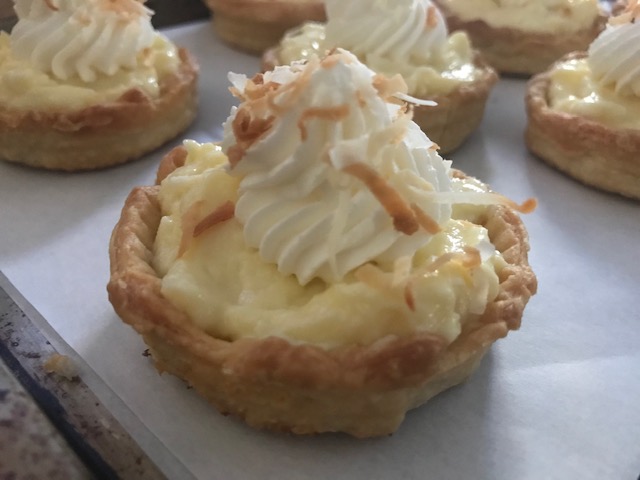 I finally got mini pies into my repertoire! It took some experimenting, but I'm delighted with the result. Aren't they adorable?
I've been making lots of bigger pies for years–the standard, round 9- and 10-inch ones, and even a few big rectangular "slab pies." But all the while, I've been watching my fellow bakers churn out cute little individual pies. They're so terrific, I thought; the folded-over hand pies are so easy to pick up and eat, and the little round ones are, well, just so cute. I knew I needed to develop a tiny pie of my own.
Finally, I have. I decided to give it a whirl after seeing a video by my esteemed pie-baker colleague, Ken Haedrich of the Pie Academy in South Carolina. I loved his idea of using Mason jar lids, and decided to give it a try.
I used lids that are 2 1/2″ in diameter, and divided my batch of dough to suit that size. It is a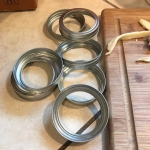 little challenging to roll out little 1-ounce balls of dough. But I had fun experimenting with techniques to get it to work. ("Quick! Get those dough balls into the fridge, they're getting too warm! You can have more wine after you get 'em in there to chill.")
My first batch didn't go particularly well. I used 2-ounce balls of dough, and they were too bulky and thick for the size of the jar lids. Friends who served as tasters were still charmed by the little pies, fetchingly filled with dark chocolate-cream. But they agreed that batch #2 should be lighter on the dough.
For batch #2, I rolled 1-ounce balls of dough. They were just the right size for a nice thin/delicate crust. I rolled them out and eased each one into a jar lid, taking care to roll the top edge down a bit so it rested ever-so-slightly on the edge of the lid. (You'll notice that I didn't use the separate, circular piece of each Mason jar lid. All you need is the rim.) I arranged the crusts on a baking sheet and put them in the freezer.
When my oven was preheated to 425, I blind-baked the crusts. I lined each one with a cupcake paper and filled it with dried beans that I keep around for this reason. I baked them for 15 minutes, then took out the papers and beans and baked them empty for another three minutes. They came out of the oven to cool. Lifting each crust out of its lid was super easy.
I used my regular recipe for coconut cream (and, for batch #1, chocolate cream) pie filling. I'd made it already, on the stovetop, and chilled it in the fridge. So when the crusts were cool, I spooned in the custard filling, then whipped up some cream and piped it on top.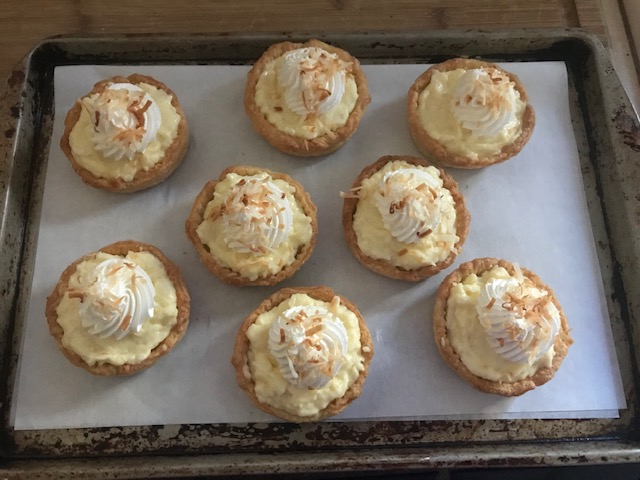 I hope you love these as much as my friends and I did! Let me know what you think!