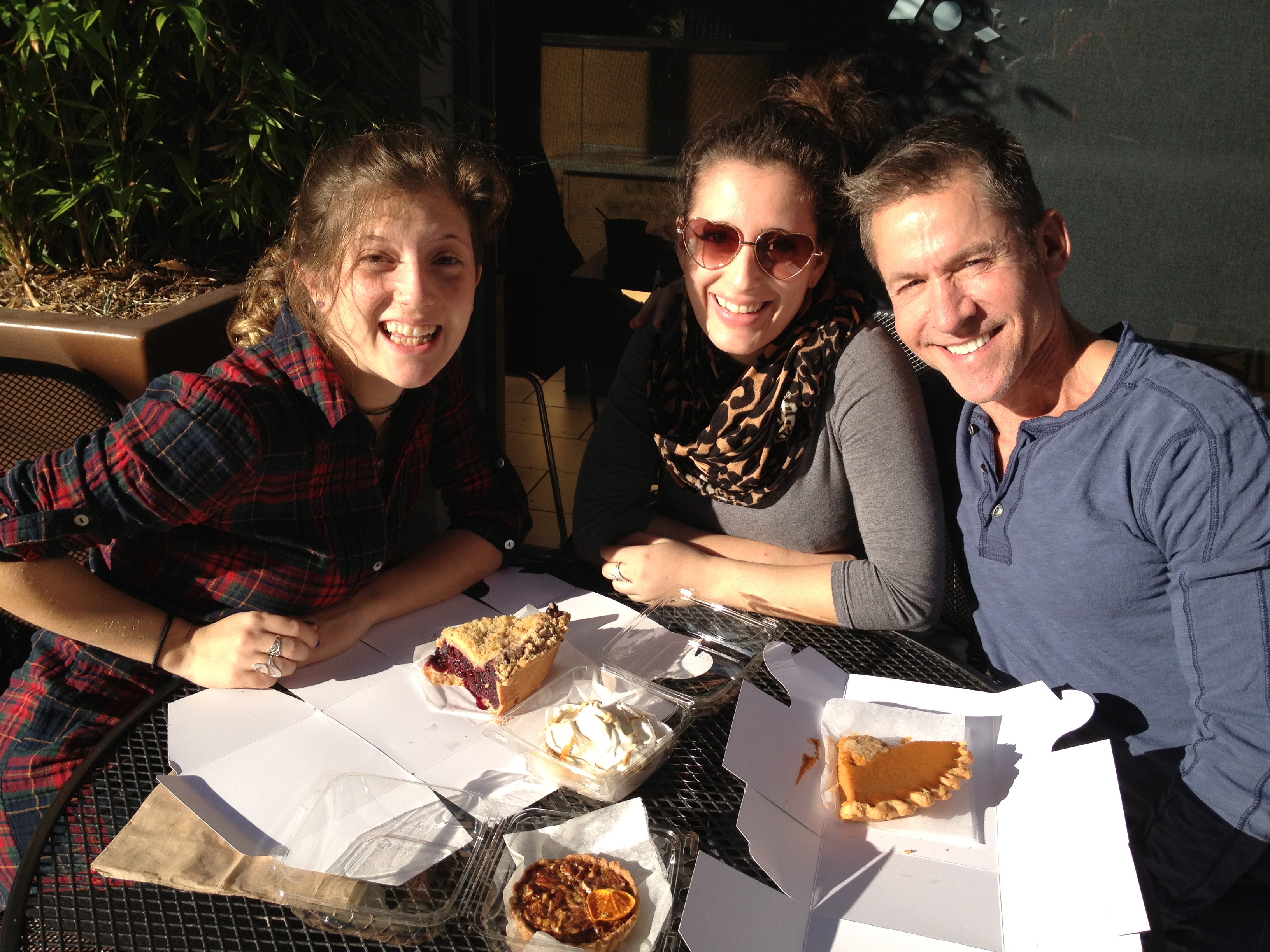 When we flew to L.A. early on Thanksgiving morning to visit the CurvyMama parents, we never imagined that the sun would set on the biggest pie holiday of the year without our having set eye–or teeth–on even one slice of pie. But that's what happened. The three smiling people above are the collective face of an amazing pie journey that began with shock and sadness–a pie-less Thanksgiving? Really??–and ended in a happy feast made possible by a massive gush of sympathetic support and guidance from my fellow pie fanatics coast to coast. Let me tell you the story.
First of all, I'll cop to my role in this pieless day: CurvyMama did not bring pie from Washington to L.A. While this is shocking, I know, there is an explanation: I tried it last year, and the cross-country journey didn't do the pie–or folks who ate it–any favors. So this year I finished my baking for customers and got on a plane empty-handed, pitching in, instead, with chocolates and bottles of wine.
My hosting cousins had murmured about coordinating who was bringing what kind of pie, so I thought my abstinence from that dinner category would essentially leave it to others. But as it turns out, that wasn't the case.
The incredibly delicious dinner was capped by three totally yumptious desserts: cheesecake, flourless chocolate torte with mocha mousse, and a pumpkin/berry trifle. Delicious, but also conspicuous for its absence of pie.
Posting about this the next morning in the Facebook group Pie Nation sparked an outpouring of sympathetic grief and outrage, followed by a wave of networking and suggestions about precisely where I could cure my pie withdrawal, which was by then reaching the hand-tremor stage.
Now when I say networking, I need to add a capital N. These pie-crazed souls lit up their email and text connections in a zillion directions, and within minutes, I was getting expert guidance from dozens of points on the U.S. map.
And where the hell is Pie Nation, some of you might be asking? It's a Facebook group I set up with my friend and pie mentor Kate McDermott, who runs Art of the Pie, the nerve center for her masterful piemaking and teaching practice in Washington state. When we created the group on a hot June day at my kitchen table here in D.C., we never dreamed it would draw more than 125 pie-obsessed souls. But it has.
Citizens of Pie Nation share truly rare levels of pie passion; we have been known to post dozens of comments about the kinds of thickeners we use and the types of rolling pins we prefer. We post photos and sympathize about our dropped, spilled and otherwise wrecked pies; we put up gorgeous sexy pictures of our triumphs and applaud one another with lots of exclamation points. It's truly a haven for those of us who are hopelessly smitten with pie. So Pie Nation was the natural place for me to turn with the sadness and deprivation of a pieless Thanksgiving.
And these peeps came to my rescue in the most dramatic way. Instantly, one member, Sandy Marcus Lieberman, who bakes under the name of Sandy's Cutie Pies outside Philadelphia, pointed me to Sweet Lady Jane, a bakery that was practically around the corner from the CurvyMama parents' house in Santa Monica. Her niece happened to work there, and praised their pies.
Then Kate–whom I consider the Mother of All Things Pie–jumped in, reaching out to her impressive and large network of friends and serious foodies. Now Kate's been in this pie game longer and more deeply than anyone I know, so not only does she know her stuff, she has an unparalleled Rolodex of Pie People. A few emails and one plaintive Facebook post from Kate–my pie sister had a pieless Thanksgiving, can you imagine? She needs our help!–sparked responses from the likes of Los Angeles Times food editor Russ Parsons and longtime L.A. chef and restaurateur Evan Kleiman. It drew responses like this one, too: "If she wants to come to Oxnard, my daughter can help!" And in less than half an hour, I had an itinerary bigger than I could even manage in the time I had left on that last day in Los Angeles. Wow. The Power of Pie, truly!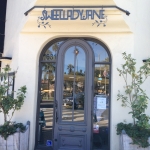 Stop number 1 was Sweet Lady Jane, which has been doling out sweets in West Hollywood for a couple of decades, but opened a Santa Monica store three years ago. In this lovely little shop, I faced a drool-worthy case of all kinds of pastries. I grabbed a couple humongous slices of pie–pumpkin and mixed berry–and hit the road. I had a tight schedule to keep!
Stop #2, lucky for me, was not far away: Huckleberry, a hip and noisy hangout known for its
healthy roots-conscious cooking. Pie didn't have a big presence in their dessert case, so I opted for two mini tarts: the maple walnut and coconut cream. Bypassing the long line of studiously beautiful brunchers waiting for organic golden quinoa and lentil ragu with poached eggs, I zoomed through the express line (takeout pastry! Yay!) back out onto Wilshire Boulevard, my prizes safely boxed with plastic forks and napkins.
I was on a timed pie course: I had to squeeze in stops #1 and #2 before driving down to Venice Beach to pluck the CurvyDaughters off the boardwalk, where they'd been soaking in the L.A. sun, perusing feather earrings and inhaling the freely wafting cannabis. Then we needed to wind our way up to Sunset Boulevard in West Hollywood, where we were scheduled to meet Don, my bestest boyfriend, for a healthy light lunch before the next pie stop.
We rendezvoued with Don right on time, chowing down on vegan salads and wraps in the balmy air at Veggie Grill. Then we faced an ethical dilemma: do we bring our two big pie slices and the little mini tarts to Baby Blues BBQ, where we were headed for buttermilk pie? Or would it be gauche to whip out baked goods from elsewhere in an eatery with its own dessert menu?
We concluded that we couldn't cross that etiquette line; and besides, why not eat our pie in stages? We commandeered an outdoor table at Starbucks, right across the sunny plaza from Veggie Grill, and spread out the first stage of our feast. That's how we got the three smiling faces you see at the top of this blog post.
We dove into our pastries, and clear winners emerged instantly. Clearly, the pastry chef at Huckleberry knows what she's doing. The tarts inspired moans of pleasure and approval all around. The orange essence in the maple walnut tart drew especially fond mention.
The coconut cream was smooth and light, with secretive little hints of caramel drizzled in, and an expertly handled meringue topping.
Now Don likes his coconut custard heftier, as he noted in a pie shop review he wrote for us earlier this fall, so he thought this tart was a bit light in the loafers. He also said it lacked sufficient coconut flavor. The CurvyDaughters and I disagreed. SweetiePie Hannah, a particular fan of coconut cream pie, pronounced this one lovely. The pastry was perfect; delicate and full of butter flavor.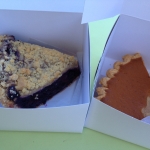 Most of us liked Sweet Lady Jane's pumpkin pie; the filling was delicious, I thought. But the mixed berry was disappointing; sad to say, we left most of the huge wedge untouched.
With that, it was time to move on to Stop #3. Before my Facebook post prompted a gush of suggestions, I had planned a redress for my pieless Thanksgiving by going back to this funky little West Hollywood joint in search of a buttermilk pie so good that it will erase anything bad about your day. Don and I had swooned over that pie last summer, as you might recall if you've been following us here. So now Baby Blues was to be the crowning stop on what turned out to be a Pie-Nation-fueled pie tour.
To our disappointment, though, we learned upon our arrival that Robyn Poarch, who runs Porch Pies, was no longer supplying Baby Blues with buttermilk pie. The in-house baker had now taken over that job, and had "made up a recipe," the hostess cheerfully informed us. Uh-oh, my gut said. But having already fed the parking meters, we decided to give it a go.
The pie arrived gorgeous: a generous slice oozing brown sugary custard, with a plump scoop of whipped cream and berries. Funny thing was, the brown sugariness bore no resemblance to the buttermilk pie that Don and I had eaten there before, or, for that matter, to any buttermilk pie I'd ever seen.
This was no comfortingly simple buttermilk custard; it was another animal altogether, and one I couldn't quite identify. The best I can tell you is that it was a thick butterscotchy custard; delicious, but not at all a classic buttermilk pie.
I took issue with the crust; so heavy at the edge that it fought off my fork, and so firm and thick on the bottom that I needed my sharp knife—laid out for the restaurant's meat-heavy menu—to cut a bite. Not good. My dining companions took issue with me: they loved the crust. They gushed about "hefty" and "like a cookie" and "substantial" (in a good way). I couldn't shake the feeling that you shouldn't need a steak knife to cut your pie. It just ain't right. But still, the pie was tasty. I was disappointed not to have Robyn Poarch's buttermilk pie again; somewhere in the City of Angels, people were eating it, and I wasn't one of them. But I hope to be one day again soon.
Even the couple of disappointments in our whirlwind pie tour didn't dampen my spirits, though; the day had completely erased the sadness of my pieless Thanksgiving, and restored the balance of my universe. Of course, doing all that with three of my favorite people in the universe–and a wave of support from Pie Nation at my back—was even better. All was certainly well in the CurvyMama world.