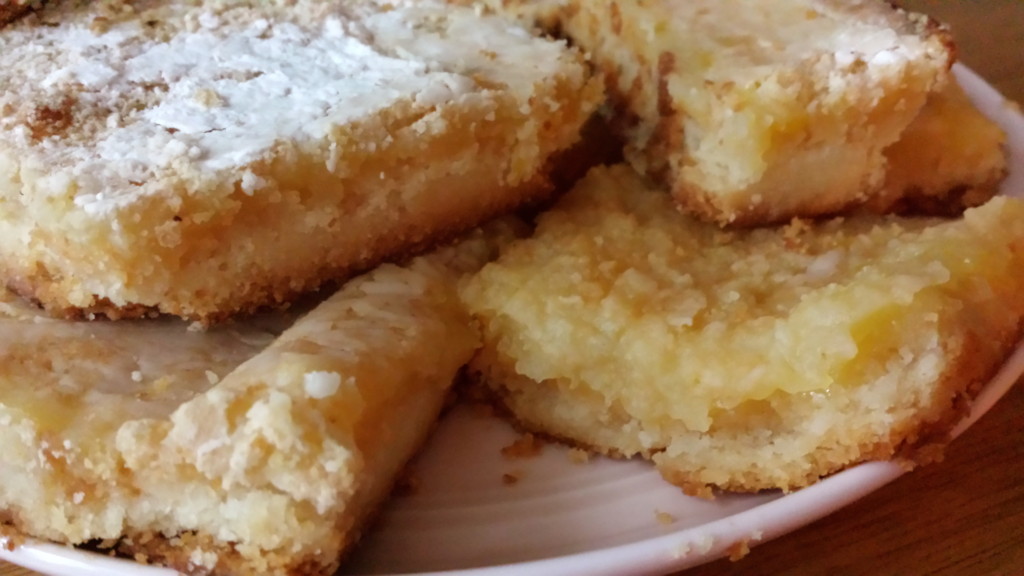 Only a few days ago, I bid a farewell to my mother by baking a batch of her black-bottom cupcakes. It's been three weeks since she died, and I know I've taken only the first baby steps in a very long journey to grasp what her passing means for me. I don't know if I'll ever stop reaching for the phone to ask her to explain some undecipherable detail of a hand-written recipe, or just to say, "Hi, ma."
But a surprising and reassuring thing is starting to happen: she is living alongside me through her recipes (and maybe also through a little striped cat named Scout. But I'll get back to that in a minute.).
The first sign was when my cousin Ellen asked for my mom's carrot cake recipe. Still tearful from her memorial gathering, Ellen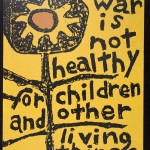 and I reminisced about all the carrot cakes my mom made in the early 70s, when she overflowed with the counterculture hippie spirit of Southern California. She wallpapered our kitchen in wacky bright yellow, orange and green flowers, and hung a poster on the wall that said, "War is not healthy for children and other living things." She hammered McGovern signs into our front lawn in 1972, marking our fuzzy-haired New York Jewish family as Really Different in our newly adopted neighborhood of country club Republicans. And now, in 2015, cousin Ellen wanted the recipe, as if my mom was still figuring out a way to knit our family together, even after she'd moved on.
The second sign happened when I shared the black-bottom-cupcakes blog post with my mom's dinner-club friends. One remarked that she had always loved my mom's lemon bars. Another said she adored her blueberry crisp. So I sent recipes, and suggested that maybe we could get together next summer, on the anniversary of her death, and bake some of her recipes and share memories about her. This gathering would make my mom so happy; I hope we can pull it off.
Then there was the Lemon Bar Event. A package arrived at my door yesterday, and I opened it to find a batch of lemon bars, baked by my bestest boyfriend, Don, in Los Angeles. Of course my first reaction was to eat one. Immediately. Then I picked up the phone and called Don.
"When I saw your blog post about how your mom used to send you care packages, I couldn't resist," said my friend of 45 years, who knew and loved my mom, benefited from many of her baking projects, and is no slouch at baking himself. He explained that he has my mom's lemon bar recipe (originally shared with her by her friend Geralin Clark) in his cookbook, and was making a batch to take to dinner with friends, so "I just made another panful for you."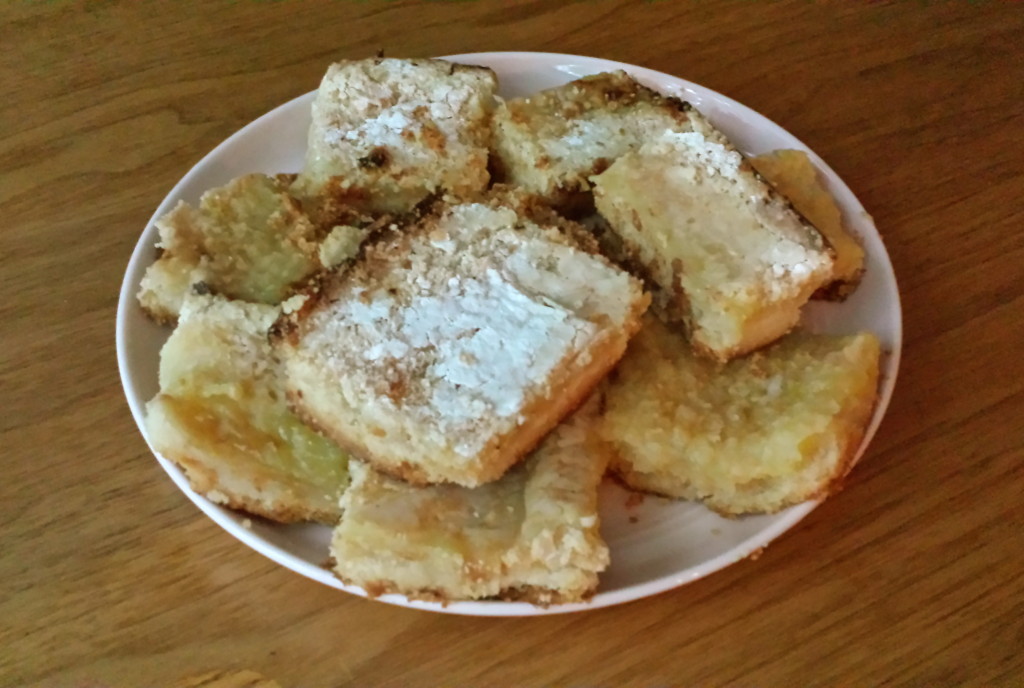 This is the guy who has been there for me through thick and thin, and, with his partner, Donovan, came to my rescue all summer when I was running back and forth between D.C. and Los Angeles. They shared their home, their food, their wonderful dogs, their grumbly old pickup truck, their hearts and their shoulders–not to mention a cabinet full of great skin and hair products–when I was in need. Love you guys!
And now lemon bars. It turns out that Don relies on my mom for a couple of other fab recipes, too: her hobnail frosting and her Hello Dollys.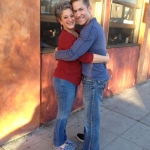 What the hell is hobnail frosting? And Hello Dollys?? What gives? Those might just have to wait for another blog post. Cuz they're yummy enough to justify one. And mom would love that.
On those hot summer evenings after my mother died, I lay in bed in Don's guest room, looking out the open window at the tall, tall palm tree tops, listening to the traffic and searching for some sign of her. I thought maybe I would be able to feel her somewhere, in the dusky sky of the place she learned to call home after decades in New York and her beloved childhood New England. But I couldn't find her; I couldn't feel anything but her absence.
Now I have the teensiest inklings of her, and they've all come through the kitchen. Well, maybe not all of them; little Scout might have a special line on mom, too.
My older daughter, Hannah, and her boyfriend, Gabe, are living in the guest room over my parents' backyard garage now, and the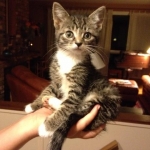 tabby cat Scout is their feline companion. Twice since my mom died, Scout has meowed at a spot near the ceiling in their room, the room that my mom lovingly decorated years ago to be a haven for her children and grandchildren when we visited from far away. Hannah tells me that Scout talks conversationally to this spot, focusing intently on it as she chats. "So we decided," Hannah said, "that it's a lovely ghost, and that it's Nana."
So I guess mom's hovering in the guest room. And it's so nice that her recipes are knitting together the things and people she loved. Maybe when I looked out that window those nights at Don's, I was just looking for her in the wrong place.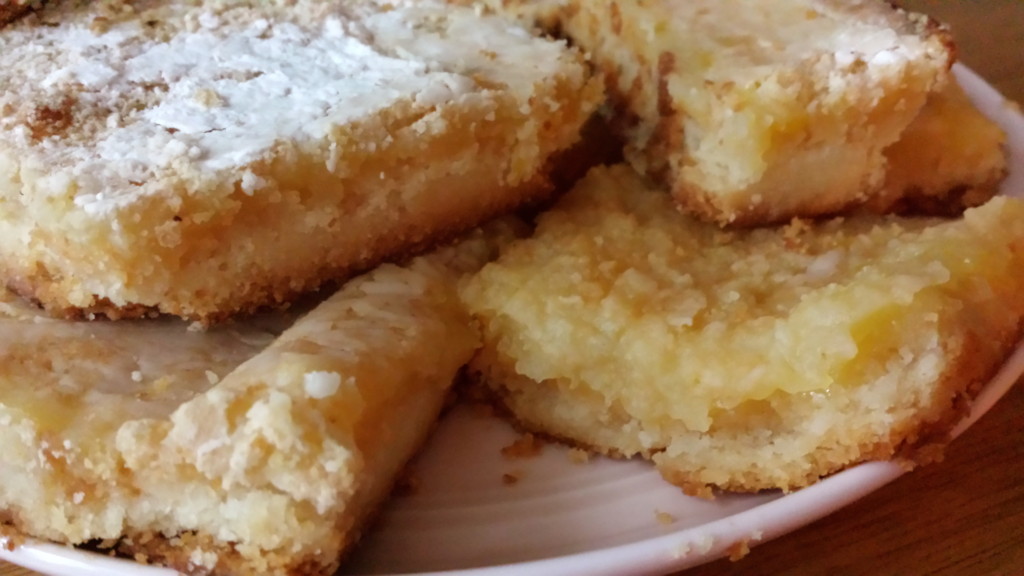 Judy Gewertz's Lemon Bars
2015-08-11 14:52:50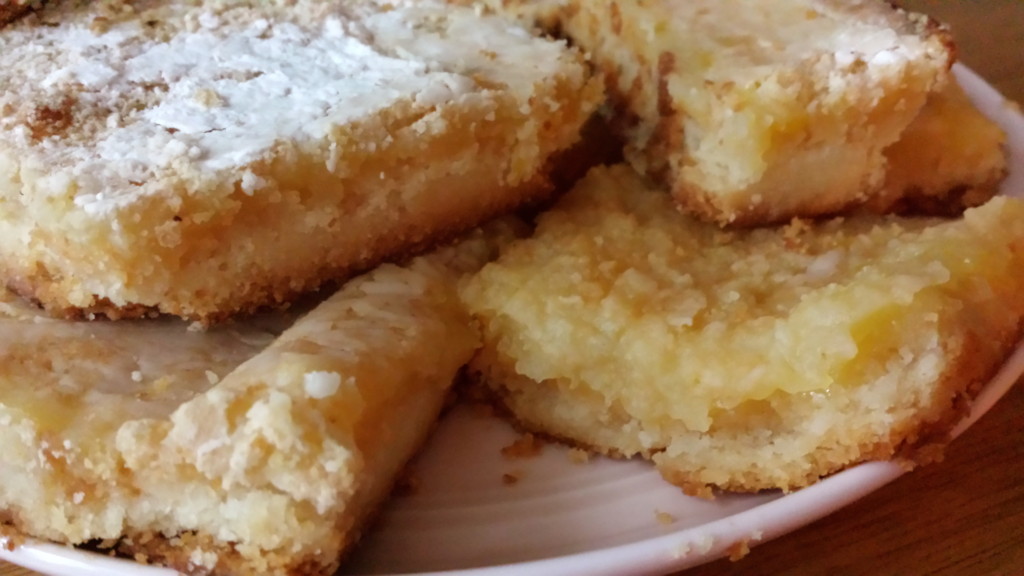 Ingredients
1/2 cup butter
1/4 cup powdered sugar
1 cup and 2 Tbsp. flour, divided
Pinch of salt
2 eggs, lightly beaten
1 cup sugar
Juice and grated rind of one lemon
Instructions
Preheat oven to 350.
Cream together the butter and powdered sugar. Add the 1 cup of flour and the pinch of salt. Mix well.
Press this mixture into a greased 8 x 8 pan. Bake 15-20 minutes, until it's golden brown.
While the crust is baking, combine the 2 eggs, 1 cup sugar, 2 Tbsp. flour, and the lemon juice and rind. When the crust has reached golden brown, take it out of the oven and pour this lemon mixture over it. Return it to the oven and bake 20-25 minutes.
Let the bars cool completely, then sprinkle with more powdered sugar and cut into squares.
Adapted from Geralin Clark
Adapted from Geralin Clark
CurvyMama Pies http://curvymamapies.com/